Keep up with the most pressing, interesting, and important city stories of the day. Sign up for the CityLab Daily newsletter here.
***
What We're Following
Watershed moment: One year after Hurricane Harvey devastated Houston, the city is facing a choice. Harris County residents are set to vote on a $2.5 billion bond package to fund flood mitigation and prevention projects. One expert says that package is just the first step, as eight counties in the area consider how to respond to the $125 billion in damage Harvey wrought last year.
While greater Houston shares a common interest in staying dry, its municipalities are also competing with each other to preserve what made the metro area a boomtown—its reputation as a low-tax, low-regulation environment where housing costs have remained relatively low. But building a flood-resilient Houston will mean raising taxes and giving land to water. As a city driven by the oil industry reckons with the real risks of climate change, it's now weighing a multi-billion-dollar bet to survive the next Harvey.
---
More on CityLab
---
Big Bang Theory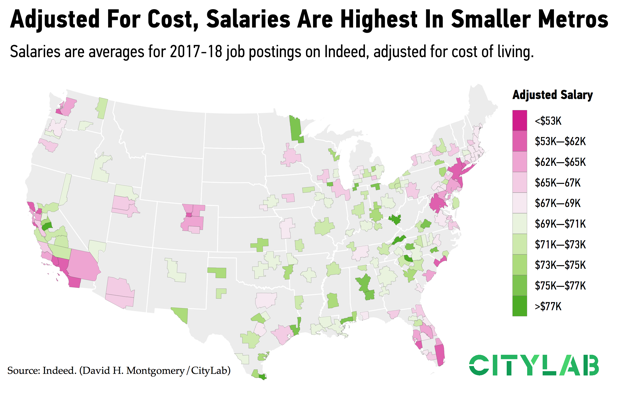 While salaries may be highest in New York or San Francisco, those cities certainly aren't the most affordable. To stretch your earnings the furthest, it's places like Duluth, Minnesota, or San Antonio, Texas, where even a modest paycheck keeps up better with the cost of living. A new analysis from Indeed's Jed Kolko identifies which places have the best relative balance between salary and cost of living.
The map above shows that the towns with the highest adjusted average annual earnings tend to be smaller cities in the nation's interior. And Kolko finds it might not take a cross-country move to make your salary go a bit further than it does now: A better city may be less than a day's drive away. CityLab's Tanvi Misra takes a look at the cities where you get the biggest bang for your buck.
---
What We're Reading
Details of Uber harassment settlement released (NPR)
Study finds apps increase crashes and speeding violations for drivers and couriers (The Guardian)
Trump's FTA has gone rogue (Streetsblog)
The last project of America's golden age of infrastructure is finished—61 years later (Quartz)
---
Tell your friends about the CityLab Daily! Forward this newsletter to someone who loves cities and encourage them to subscribe. Send your own comments, feedback, and tips to hello@citylab.com.