Homeownership has long been the veritable cornerstone of the American Dream. But the unfortunate reality is that our nation's outsize attachment to homeownership may actually be an impediment to achieving it.
Study after study shows that high levels of homeownership can constrain mobility, lock people in place, and hold back the economy as a whole. Homeowners are a key factor in the NIMBYism—or what I like to term the "New Urban Luddism"—that limits housing production and the density that lies at the root of urban innovation and economic growth. But the political clout of homeowners goes beyond local NIMBYism and zoning politics, extending to politics at the national level.
A new study by Stanford University political scientists Andrew Hall and Jesse Yoder finds that homeownership is a significant factor in political participation, both national and local. Owning a home changes a person's political outlook as he or she seeks to protect the value of their investment. Homeowners participate more vigorously in politics, and their self-interested political posture does not just limit the ability of cities to build more and achieve greater density, it contributes to broader political and economic inequality.
Yoder and Hall's study developed and analyzed detailed local and national election data for more than 18 million voters in Ohio and North Carolina, states which have particularly good data for these purposes. The authors cross-referenced these records with data on home prices, assessment values, and other key characteristics of housing. Hall and Yoder focus on how becoming a homeowner changes people's participation; their affiliation with, and preference for a political party; and their stances on issues in local and national elections.
One factor: Buying a home leads to a substantial increase in participation in local politics. Hall and Yoder estimate that owning a home causes a striking 35 percent increase in turnout in local primaries. Political participation is also hinged to home values: Owners of more expensive homes—those with the largest investments at stake—have significantly higher levels of turnout.
Homeownership and Turnout By Key Local Issues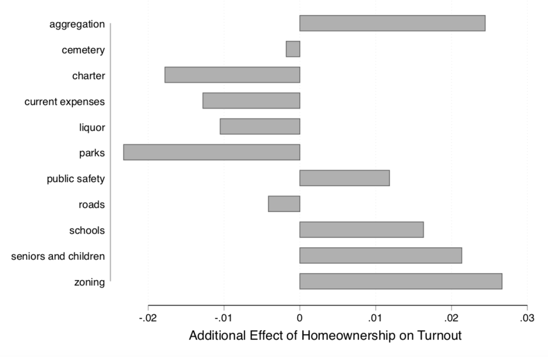 The effect of homeownership is even larger when it comes to key policy issues, as the chart above shows. Not surprisingly, zoning issues have the largest effect, increasing turnout by roughly 75 percent. Not far behind are so-called "aggregation" issues as the study defines them: These are votes on whether the community should negotiate rates for public utilities, like electricity, collectively. Homeowners are also more likely to turn out for measures that are related to public safety, schools, kids, and seniors.
Homeowners tend to dole out their political effort strategically: There are some issues where their turnout is lower than the average citizen's. These include policies on parks, roads, municipal operating expenses, local charters, cemeteries, and liquor. The authors note that the result for municipal operating expenses is puzzling because this issue certainly has an effect on taxes and thus on the economic interests of homeowners. The results for park and road policies also seem somewhat counterintuitive, since these politics would also seem to affect housing prices.
General-Election Turnout Among Long-Term Homeowners and Long-Term Renters Who Voted in 2008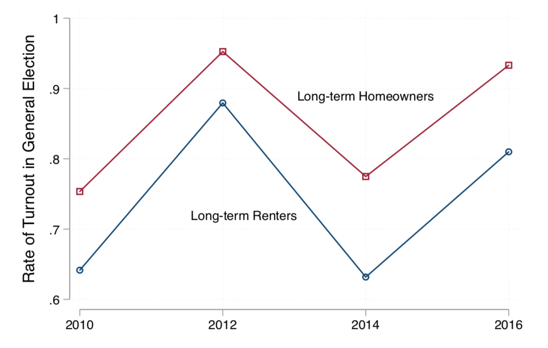 Homeownership is not only a factor in participation in local politics, it's a key factor in participation in national politics as well. Homeowners are more likely to register and turn out to vote in both primary and general elections for both major parties. And long-term homeowners in a community also participate more: They are about 10 percentage points more likely to vote in general elections than long-term renters.
Interestingly, homeownership has a split effect on political party affiliation. Those who use private mortgages "polarize," according to the authors, with some becoming Republican and others becoming Democrats. But homeowners who get mortgages backed by the Federal Housing Administration, so called FHA loans, are much more likely to become Democrats.
In fact, the authors point out, even those who were previously Republicans "shift markedly" toward the Democratic party once they receive an FHA loan. It could be that those who receive FHA-backed loans recognize the value of government in helping them obtain a low-interest mortgage or perhaps it is because FHA loans are only available for more modest loans, and are more likely to be taken by working or middle-class people. At the same time, Republicans who do not use FHA loans become even more Republican.
It's not just that becoming homeowners makes people more NIMBYish, or that homeownership locks people into place, but buying a home changes people's political behavior writ large. Once someone buys a home, they act politically to protect its value. As the authors point out: "Overall, the results suggest that individual economic circumstances importantly influence political beliefs and behavior, and suggest that homeowners have special influence in American politics in part because their ownership motivates them to pay attention and to participate."
While the fact that owning a home increases political participation can be seen as a something of a good thing, especially in a society where political turnout tends to be low, the ways that homeowners act to protect their own interests can, and do, have negative effects on our cities and society broadly. Indeed, the authors write, such strategic political action by homeowners "may increase political and economic inequality." The study notes:
"Because homeownership appears to change beliefs along with participation, policies that encourage homeownership may prop up existing status quos by creating a larger constituency in favor of restrictive zoning policies and other pro-homeowner policies that disadvantage those without property."
In other words, these policies may help to reinforce the gap between more affluent and advantaged homeowners and the rest of American society, giving additional credence to the catch-phrase, "I got mine, Jack."