One might think that getting from Brooklyn to Queens—or vice versa—would be easy.
For one, they're physically connected to each other; they share the same landmass—the start of Long Island, but not technically Long Island. Secondly, they're New York's two biggest population centers; if Brooklyn and Queens seceded, they'd be the first and fourth most populous cities in the country, respectively, surpassing both L.A. and Chicago. And finally, of the five boroughs, they're both major drivers of population and job growth in the city right now.
But unless you own a car—which most New Yorkers do not—it's strangely hard to get from one borough to the other. By subway, residents must seek out train lines at the ends of each borough, before backtracking. Bus routes are notoriously circuitous and slow. Both systems are a result of the spoke-hub model, designed at a time when Queens was comparatively pastoral and Brooklynites largely headed into Manhattan for work. So much so that even in 2018, it's a common refrain in New York City mass transit that if you're going between the two boroughs, you're either going through Manhattan, or not going at all.
That's what made The Great Cross-Borough Mobility Mode Challenge (that was my name for it, at least) on this steamy Tuesday morning during rush hour a bit more interesting.
Just after 8:30 a.m, seven participants simultaneously left a starting point in Bushwick, Brooklyn, and hopped onto their assigned means of transportation: subway, bus, Citi Bike, Uber, UberPool, taxi, or electric moped. Their goal? Pass this goofy made-up finish line—which had a sign, green tape, and all—outside of the Court Square Diner in Long Island City, Queens, where myself and a handful of other transit-beat reporters were waiting beneath the shadows of rapidly rising condos and subway tracks.
The race was put on by Revel, a shared electric moped company that recently premiered in north Brooklyn. The point of the stunt, beyond snagging some media attention, was to highlight the fact that traveling during rush hour between Brooklyn and Queens sucks. And it only stands to get worse once the L train goes offline for 15 months in April of 2019, dispersing hundreds of thousands of riders onto overburdened stations and roads. The big question: Which of these shared-mobility services, old and new, performs best under pressure?
In interviews, what Revel founders have posited is a multi-modal future, where affordable, ancillary services fill in the gaps between the spokes and hubs—especially since it doesn't look like New York City is building more subway lines any time soon.
Perhaps not surprisingly, given that this was an exercise engineered to display the concept of moped dominance, Revel co-founder Frank Reig was the first to arrive at the finish line, making the 4 mile trek in a swift 23 minutes. He said he found a moped three blocks away from the race's start (the company's headquarters on Cypress Avenue), and rode straight through Greenpoint, over the Pulaski Bridge. "I could tell people in cars were frustrated—there were a lot of traffic, and a lot of gridlock," he told reporters. "With the moped, you're nimble; you're able to get around these dead zones that are red lights, where there's just cars that can't move, but you're able to kind of squeeze by."
It's not the cheapest way to go, however. After a $25 deposit, each Revel ride is $4. And, had this been a real commute situation, getting back could be a problem: Currently, the pilot area for Revel does not include Long Island City, though Reig hopes that will happen next year.
As we waited for the other participants to arrive, Claire Holmes, the Revel spokeswoman, showed us a map that monitored their locations. The icons were scattered all over—a telling sign of the cross-borough challenge. You have to circumnavigate just to go straight.
Eleven minutes later, Paul Suhey, the other Revel co-founder, stepped out of his UberPool. His car took five minutes to pick him up, he said, and he had to drop off another rider in between. The 34-minute ride cost $17. "Pools can be really hit or miss. Sometimes you get in, and you don't pick anyone up. And sometimes, it's a longer route," Suhey said. "I just thought it was going to be less than $10."
Three minutes later, his brother, Kevin, came off the streets, holding a white sign like an airport driver that read "Uber." His solo ride had taken nearly 40 minutes to go 4 miles. The GPS instructed the driver to take the highway, but rerouted him after the car sat in traffic for some time. Price: a whopping $41.79 (without a tip). "I don't know if I'd advise anyone to take an Uber during morning rush hour," Kevin said. "It's not realistic if you live in Brooklyn. Maybe if you live on Park Avenue." On the other hand, he did enjoy air-conditioning, music, and the ability to answer emails in the backseat.
The next racer to make it to the finish line was Mirjam Grunenfelder at 9:23 a.m., who said she stood in Bushwick for 20 minutes, trying to hail down a New York City taxi. She gave up and took a $2.75 subway ride to Bedford Avenue, the bustling center of Williamsburg. From there, she took a $13 cab to where we were standing. "I think I'd still be waiting until the end of the day, if I hadn't done that," she said.
As she talked to reporters, Travis Shannon, a Revel employee, emerged out of the subway station at Court Square; he had taken the L to the G, the route that thousands of more riders will have to make come April. It took him 44 minutes—and that was with the subways working properly. "I didn't encounter anything crazy," Shannon said. "It's just, this time of the morning, it was packed. Waited for the L about 5 minutes, and waited for the G for about 5 also. It was super smooth. Nothing crazy happened. But as you can tell, I wasn't here first."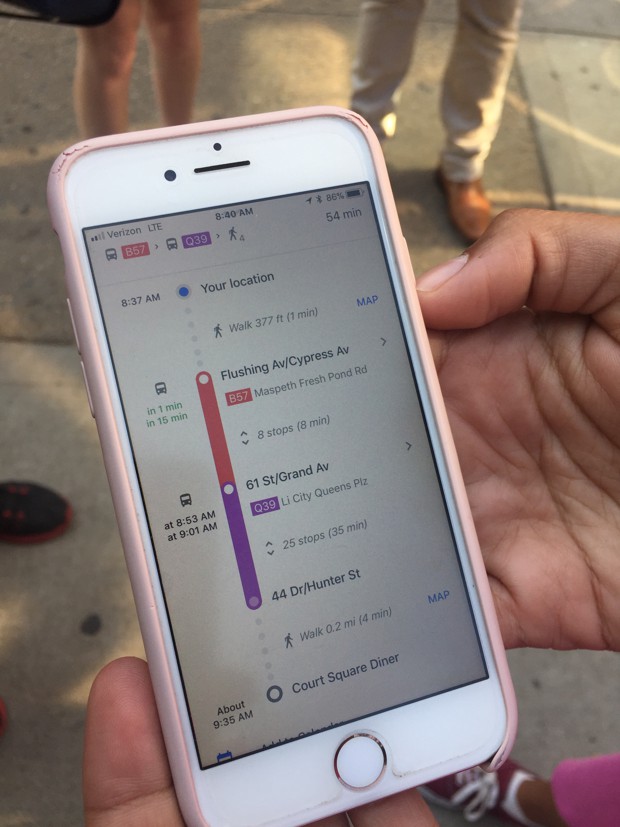 The other mass transit user, Brittany Pavon, made it off the bus next. She had transferred from the B57 to the Q39. Living on Manhattan's Upper West Side, Pavon said she hadn't been on a New York City bus in years, but enjoyed the experience: Unlike her morning subway rides, she had a seat, she told me, and it was quiet. The buses also arrived within minutes, per countdown clocks present at both stops.
But still, she added, it took 50 minutes. Her complaints echoed those that advocates have made for years about New York City's poky bus system: The routes included lots of stops, and often zig-zagged, she said. "Even when you look at the map, instead of just going north, it has to veer over east, and then come back around," she said.
I told her about the NYC Bus Transit Plan; one of its goals is to redesign the citywide bus network by 2021, a worthwhile undertaking, given Pavon's second-to-last place finish. "There needs to be something more direct," she replied. "Especially if they're finding that that's where the transit riders are commuting from, in that direction, and especially as Long Island City grows."
Finally, nearly an hour after leaving, Michael White rolled up on his blue Citi Bike, bathed in sweat from the absurd morning heat.
When the race had started, I had thought that the good old human-powered bike would prove a worthy competitor for its motorized rivals, especially if a skilled or fearless cyclist was pumping away. I figured a top-three finish, at least, was likely; instead, it came in dead last. (One the other hand, it was cheap: A day pass for Citi Bike is $3, but if you pay the $169 yearly membership—which comes out to about 50 cents a day—each 45-minute ride is free.)
What happened out there? According to White, traffic wasn't the issue—it was the uphill route that proved to be a struggle. (A Citi Bike weighs in at about 45 pounds.) And he's not a seasoned rider—this was, in fact, his very first time using the bikeshare service. Getting to the nearest dock took a while, and he had to pull over to check the directions a few times along the way.
(This level of competitor preparation, frankly, did not exactly give Citi Bike a fair shot in the Great Cross-Borough Mobility Mode Challenge. A rematch with a savvy Citi Biker—especially one astride one of the new electric pedal-assist bikes, which were just recently added to the bikeshare fleet—could be in order. And, as an aside: I've completed a similar ride in 30 to 40 minutes.)
But perhaps the bigger question many of us had for Reig was whether or not either of these alternatives, which carry one or two people at time, could meaningfully replace great swarms of mass transit riders—just one subway car alone can fit around 200 people. Uber and Lyft are clearly betting that shared two-wheelers can gnaw into their car-hailing market by replacing autos for shorter intra-city trips—hence their recent acquisitions of JUMP and Motivate, respectively.
Reig repeated a sentiment he had made to me when we first met: Revel isn't intended to replace either ride-hailing or public transit, or save Brooklyn during the L train shutdown. Instead, he said, it merely adds another option to our increasingly crowded mobility landscape.
"I love public transit; the subway is the most efficient way to get somewhere, when it works, is on time, and free of delays," Reig said. "But Brooklyn and Queens need more north-to-south transportation. Your life is literally organized around what subway line you live on. And a lot of that tends to go straight to Manhattan."