Keep up with the most pressing, interesting, and important city stories of the day. Sign up for the CityLab Daily newsletter here.
***
What We're Following
Bias training: Where you live and where you work can't always be in the same place. That's especially true in a city like Washington, D.C., where housing in central neighborhoods has become unaffordable. The ability to commute from across the wider region ought to expand access to jobs, but a new study suggests it doesn't always work that way. In fact, researchers found that people applying to low-wage jobs may face discrimination based on their commute.
As CityLab's Tanvi Misra reports, when fictional résumés included an address that was further from their potential employer, they were less likely to get called in for an interview. Applicants faced a similar penalty as having a name that employers perceived as "black." With neighborhoods standing in for names, add geography to the list of discriminatory hurdles that people have to clear to get a job.
---
More on CityLab
---
Rent's Due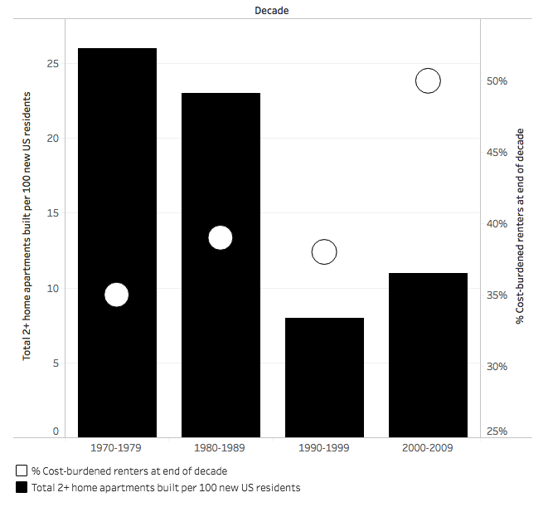 The progressive think tank Data For Progress made a case for ending apartment bans to make way for affordable housing—and central to the argument is how housing supply contributes to the problem of rent burdens, where at least 30 percent of a household's income goes to rent. The chart above shows, by decade, the total of number of apartments built per 100 new U.S. residents (the black bars) against the share of cost-burdened renters (the white circles).
In the 1970s, the U.S. built one new apartment for every four new Americans, and 35 percent of renters were cost-burdened. But in the 1990s and 2000s, there was new apartment unit for every 11 new American residents and that rent burden group reached 50 percent after the recession in 2009. CityLab context: If rent were more affordable, the average household would save $6,200 a year.
---
What We're Reading
Senators seek answers from HUD on public housing in East St. Louis (ProPublica)
Department of Justice: If Philly opens an injection site, U.S. crackdown will be swift (WHYY)
"Overtourism" worries Europe. How much did technology get us there? (New York Times)
Your favorite bench might be there to thwart a terror attack (Washington Post)
10 years after the financial crisis, is the housing market still at risk? (Curbed)
---
Tell your friends about the CityLab Daily! Forward this newsletter to someone who loves cities and encourage them to subscribe. Send your own comments, feedback, and tips to hello@citylab.com.