If there's one piece of advice that Chicago photographer Tonika Johnson wants to stop hearing, it's "Don't go to the South Side."
That's where she grew up, in the predominantly black neighborhood of Englewood. As a highschool student in the '90s, she traveled about 15 miles to attend a magnet school on the city's wealthier, better funded, and whiter North Side. Chicago's geographic North-South divide is reflected in racial and class lines, and Johnson could literally see the differences in the infrastructure and investment—much of it intentional—on her commute to school as she crossed the invisible line dividing the city.
"These were the two worlds that I've been operating in for my entire life and that a lot of black people in Chicago operate within—knowing the disparity and inequity and being forced to navigate it," Johnson says.
She knew she wasn't alone with this experience. While South Side residents are no strangers to commuting north for jobs, school, or other amenities, the reverse often isn't true. "Someone who moves to Chicago today will be told to not go to the South Side," she says.
Her desire for change sparked an idea. What if that dividing line between the North and South sides served as a way to bring people together from opposite sides of the city? On the map, that dividing line is Madison Street. Addresses there start at zero and increase as you move north and south. As a result, people can share the same address number on the same street—on the 6000 block of North and South Hermitage, for example—and have vastly different experiences of the same city.
Johnson wanted those people to come together. She started a photography project called "Folded Map," which grew into an exhibit currently on display at the Loyola University Museum of Art. In the series, she pairs Chicago residents who share the same street names and numbers—she calls them "map twins"—and has them meet at one another's homes. The results are strikingly personal narratives of life in a divided city.
Like the trope of long-lost siblings, each homeowners might never have known of the other until Johnson brought them together. She started by photographing homes in Englewood, where she had already built relationships with neighbors and community members.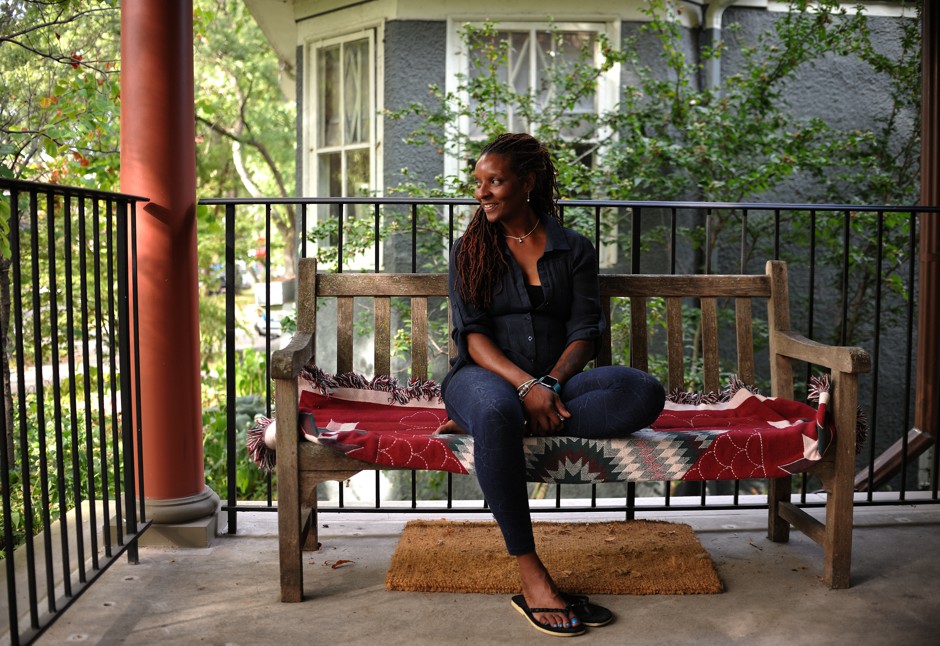 Nanette Tucker, a homeowner in Englewood, was eager to participate in the project once she heard about it. "I've been in Englewood for 11 years. I know everyone—everyone looks out for each other," Tucker says.
Like Johnson, she's familiar with the long northward commute. She does it every day to get to work, but rarely does she get the chance to talk candidly about issues like segregation with colleagues, friends, or strangers.
"I can sit down and talk about my neighborhood—a lot of what goes on in my neighborhood was designed that way, it was designed for failure, really," she says, pointing to the concentration of school closures here, and the lack of grocery stores, walkable city blocks, and amenities that are, by contrast, abundant in the city's North Side. "I can talk about it, but it's an uncomfortable conversation for some people," she says.
Johnson introduced Tucker to Wade Wilson, her map twin from the North Side neighborhood of Edgewater. Tucker wanted to make Wilson feel welcome in her neighborhood, but she initially wanted to break down the stereotypes of the South Side that he might have had too, Tucker says.
Wilson had heard the proverbial warning about heading too far south before he moved to Chicago 10 years ago, but he and his wife, who works at the University of Chicago, had lived just south of downtown in the neighborhood of Bridgeport before buying a home on the North Side. He hadn't been as far south as Englewood until he participated in Folded Map.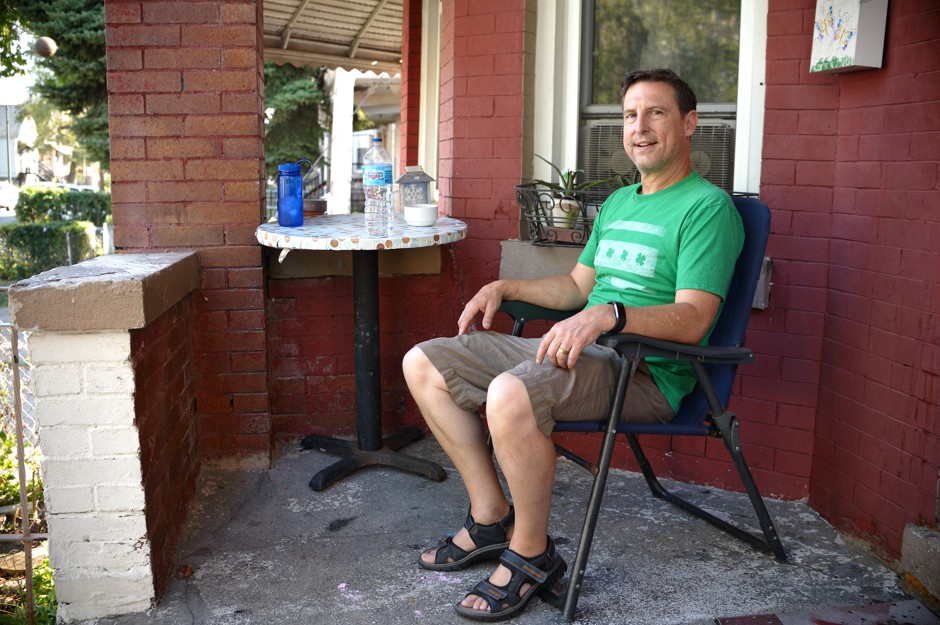 "I've always had these thoughts in the back of my head about how I spent so little time in the part of Chicago that is actually the majority of Chicago, in a geographic sense and a demographic sense," Wilson says. "Sometimes it seems like there's nothing you as an individual can do to change [segregation] to a significant degree, so when Tonika came along and introduced my wife and I to the project, we thought, 'This is a small way to bridge that gap.'"
Wilson and Tucker were able to have a meaningful conversation facilitated by Johnson's interview and photography. Tucker's familiarity with the North Side also helped them move past simply observing the disparities in their neighborhoods, Wilson says. "It was less the observation that, 'Oh you have five places to walk to to eat, and three groceries stores here versus down in Englewood'—to 'Why is that the case?' I felt like we were able to get into a deeper and more substantive conversation."
Since then, they've become friends, experiencing each other's neighborhoods outside of Folded Map interactions with Johnson, and attending community events such as poetry slams together. "I've gained a new friend, and I think that's something we've both gained—we're not scared to approach new people or neighborhoods," Tucker says.
Because of the prevalence of news stories focusing on crime in the South Side, neighborhoods like Englewood become a synonym for "high-crime, poor black neighborhood," says Mary Patillo, a sociologist and professor at Northwestern University who has written extensively about the South Side's black middle class. "We see [the socioeconomic diversity] in Tonika's photos," Patillo says, which challenges those simplistic narratives with a very human face.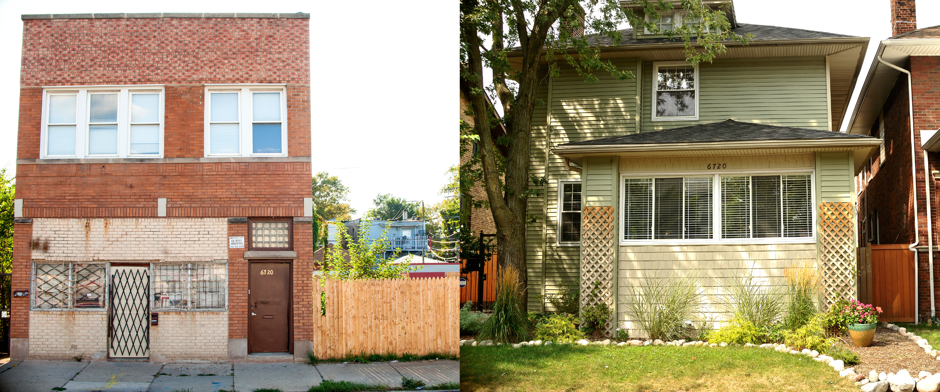 Johnson's exploration of segregation in Chicago has so far focused on the city's North-South fold, though she's planning to expand the project westward to neighborhoods like Humboldt Park, home to a growing Latinx community.
Even so, North Side neighborhoods like Rogers Park and Edgewater are relatively integrated compared to other parts of the city, Patillo points out, with immigrant enclaves and a cluster of social services for refugees resettled in the area. That complicates the dominant narrative of black-and-white-segregation.
"The immigrant Hispanic, Asian and African and Caribbean communities are not evenly distributed across the city, across what were homogeneous black and white neighborhoods," she says. "They have also established their enclaves and comprise the majority in many parts of the city as well." For some, the proximity to the North Side can also perpetuate anti-blackness, as immigrant communities are often pressured to assimilate toward white, middle class norms.
"I wouldn't feel comfortable exploring that alone, without having someone who can speak to that more authentically," Johnson says—even though, she remembers from her high school days, many of her peers of color from immigrant families were told not to come to the South Side, too.
If Johnson is reluctant to tell a narrative that isn't hers, it's informed by media representations which far too often get her own community wrong. The stories that most often get written are about crime, guns, or failing schools.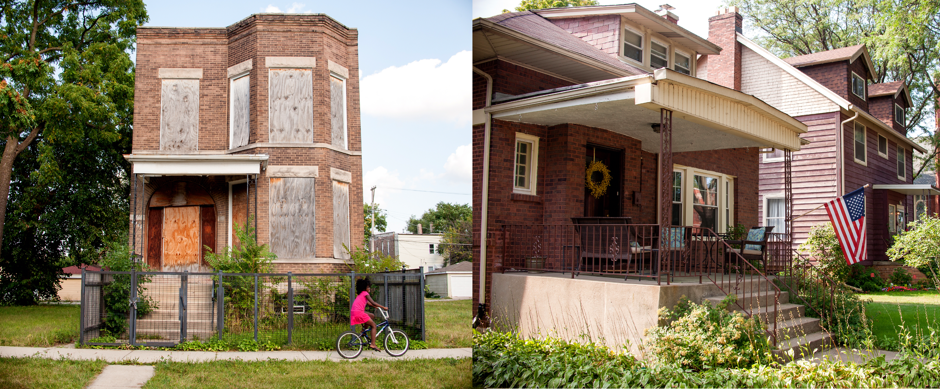 "What you end up with is documentation of neighborhoods of color, specifically black and brown neighborhoods in Chicago that are only reported on in a negative narrative," she says. That narrative gets told over and over again, feeding into the stereotypes, and it's part of why Johnson is drawn to photography as an art form rather than a documentary form.
"The beauty of what art can do [is that] it offers an opportunity for people to engage in difficult large issues," she says. "Unfortunately the trend with documentary photography, for me, is that it comes from a damage-centered point of view. So you always have your subject—a country, a group of people, an individual—as a victim."
There are no victims in Folded Map. The homes and homeowners, on both sides of the city, are presented to the viewers against the backdrop of systemic segregation, but Patillo says that what's powerful about Johnson's work is that it centers the humanity of the people who posed for the photos. The images showcase the personalities, tastes, and lives of the homeowners in a way that abstract data can't.  
"We've only been talking about this issue statistically and financially and we've never really talked about this issue through the lens of what residents are told and how that influences where they go, what they do and what they think of other residents in Chicago," Johnson says. "At the end of the day, I want to see the story from the point of view of people who live there."
Viewers will see the empty lots that dot South Side neighborhoods, but they will also see proud homeowners standing on their porches and in their gardens. Tucker has turned a vacant lot near her home into a garden—and Wilson has dropped off flowers and plant cuttings from his own backyard for her to add to the plot.
Johnson's next steps include launching a website and educational curriculum to showcase the interviews and photos from the Folded Map series to a wider audience. "Every city has its own way that it folds along racial and geographic lines," she says, and she hopes the project can spark similar conversations around inequity and segregation in other cities as well.
"When artists tap into something that we've all pondered but have never done anything about, that's when they are most successful," Patillo says. "This exhibit reflects our own curiosity and discomfort with what we know is a very segregated city, but experience as our own comfortable enclave, wherever that may be."