Keep up with the most pressing, interesting, and important city stories of the day. Sign up for the CityLab Daily newsletter here.
***
What We're Following
Spirit of the law: Old local laws can appear to grow cobwebs; they go unenforced over the years and are eventually forgotten. Case in point: weird Halloween ordinances. In some towns, decades-old laws declare it illegal to trick-or-treat above a certain age (sorry, teens) or after certain hours. The rules can be strangely specific, too—who really wants to ban masks on Halloween?
Aside from spooking some stringent rule-followers, why do these laws stay on the books when police have other ways to address Halloween mischief? CityLab's Claire Tran and Nicole Javorsky take a look at why these mysteriously selective regulations haunt  modern municipalities, and why some advocates say it's time to repeal them and let kids be kids. Read: The Towns Where Trick-or-Treaters May Run Afoul of the Law.
For more #SpookyLab, look for a special Halloween edition of our Navigator newsletter in your inbox this afternoon (and subscribe here if you haven't already!)
---
More on CityLab
---
Tunnel Vision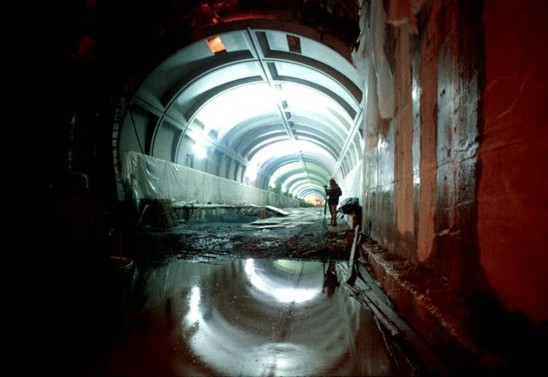 Washington, D.C., has all kinds of tunnels, from the many miles carved out by Metro to the underground labyrinth that connects the government buildings on Capitol Hill. A new D.C. Underground Atlas maps them all out in detail, offering a novel lens to look at the city's underground infrastructure. It also provides an alternative cultural history of Washington, as all these systems have to intertwine with the federal government's large footprint. "Nowhere else do you have to schedule building around moon landings," says the amateur cartographer behind the project. Today on CityLab: Mapping the Many Tunnels Under Washington, D.C.
---
What We're Reading
When citizen engagement becomes too much (Governing)
California gives Waymo first permit to test self-driving cars without humans (Quartz)
The rise of stadium seating (Curbed)
In the Rust Belt, women candidates hope to disprove the "macho" narrative of 2016 (Vox)
---
Tell your friends about the CityLab Daily! Forward this newsletter to someone who loves cities and encourage them to subscribe. Send your own comments, feedback, and tips to hello@citylab.com.