BEIRUT—On a small road adjacent to Beirut's bustling Hamra Street, three boys rummaged through dumpsters overflowing with unsorted garbage. Another stood back, holding a metal trolley with plastic boxes full of tin cans.
"We're collecting steel cans," Omar (not his real name), the boy with the trolley, told CityLab. "There's an empty lot in Zuqaq al-Blat [a Beirut neighborhood] whose owner will give us 1,000 Lebanese pounds [$0.66] per kilogram, so we take everything we've collected there after we go through all the bins."
Omar and the other scavengers are among hundreds of disadvantaged Syrians and Lebanese who recycle to put food on the table, an opportunity created by the Lebanese government's gross mismanagement of its solid waste.
Omar and his friends, who appeared to be no older than 14, start their day in Ain al-Mreisseh by Beirut's famous Corniche promenade, and walk around the neighborhoods in the area looking for rubbish that they can trade for cash. Mapping out everywhere the four boys go, snaking through busy streets dragging a wagon filled with cans, it is clear their routine means a long day of hard work.
Omar, a Syrian refugee, would not reveal who they sold their cans to. "Are you recycling at home? If you have any cans, we'll take them from you," he said.
I spoke to another boy a few blocks away later that same evening. It was a near-identical scenario: He was not comfortable sharing his name, he was from Syria, and was collecting tin cans to send to the same place in Zuqaq al-Blat. Unlike Omar, he estimated that he collects 20 to 30 kilograms daily. If that is correct, his maximum yield brings in a little less than $20 a day.
The boys said the owner of the lot in Zuqaq al-Blat transports the cans to factories located out of the city in exchange for money. CityLab contacted several factories in the Beirut area that make steel, aluminum, and paper products; none would comment on their relationship with informal scavengers, with nonprofits and NGOs that run recycling programs, or with Beirut's private waste-collection provider as of this May, Ramco.
Lebanon's garbage crisis
Lebanon's waste-management crisis is symptomatic of bigger problems that have plagued the country since the end of a 15-year-long civil war in 1990. With the national government often accused of financial mismanagement and corruption, residents of the country still deal with routine power cuts and insufficient potable water. Those who can afford it pay for external power generators and water delivery services.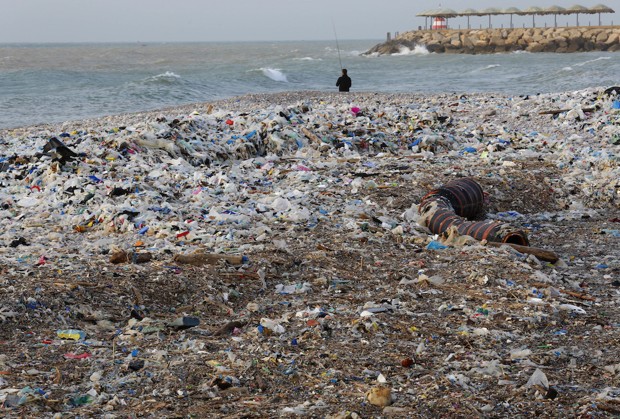 The same applies to recycling and waste management—and a multitude of NGOs and businesses try to fill in the gap left by the state. One social enterprise that has received extensive press coverage is Recycle Beirut. The organization has a small underground warehouse in Bir Hassan, just south of Beirut. Its staff of Lebanese and registered Syrian refugees sort recyclables and send them to factories.
"There is no systematic recycling plan [in the country], and non-existent recycling education," Recycle Beirut's CEO Kassem Kazak told CityLab. "We are trying to raise awareness about recycling—it's the only solution in Lebanon." Recycle Beirut is one of several initiatives that arose after the metropolitan area's largest landfill was closed and garbage piled up in the streets of Beirut, spurring a wave of protests.
Recycle Beirut has been praised by the United Nations High Commissioner for Refugees. But it and other NGOs can't solve the whole city's garbage problem, and a network of informal trash-recyclers has emerged. Although they are certainly mitigating the impact of the crisis, these recyclers are not as fortunate as Recycle Beirut's employees. Most Syrian refugees in Lebanon are undocumented, and many of the trash scavengers are also minors. They are subject to long hours rummaging through the garbage without masks, gloves, or any safety equipment. The trash collectors' situation is symptomatic of Lebanon's wider economic problems and the ongoing issue of child labor.
Lebanon has ratified the UN Convention on the Rights of the Child. But the Office of the UN High Commissioner for Human Rights (UNHCR) has said the prevalence of child beggars is one of Lebanon's three major problems relating to its children, along with corporal punishment and the enlisting of children in armed groups.
Lebanon's policy toward Syrian refugees has also played a role, especially after the foreign ministry ordered the UNHCR to suspend refugee registrations in May 2015. "There is no doubt that the Syrian refugees in Lebanon are living under very difficult economic conditions, in part by being in a country without status," said Lama Fakih, the Middle East and North Africa deputy director at Human Rights Watch. "In a number of cases, Syrians have been required to sign commitments to not work. That has increased financial pressure on families, which has resulted in child labor."
Recycling potential squandered
Solid waste in Beirut and almost all Mount Lebanon districts is currently collected and managed by Ramco, a large private corporation that also has engineering and real estate interests. Ramco has boasted about its line of environmentally-friendly technology, notably its Euro 5 emission-standard vehicles.
A 2017 report on waste management, published by Lebanon's ministry of environment, reported that Ramco's districts produced 2,850 tons of waste a day, roughly 51 percent of all waste in Lebanon.
The Council for Development and Reconstruction, an unelected body under the prime minister, plays a pivotal role in waste-management policy in the country. Its latest infrastructural progress report, from October 2017, says that 42 percent of Lebanon's waste is comprised of recyclable materials (paper, plastic, glass, textiles, and metals). Another 51 percent of the country's waste is organic (and thus compostable), so a paltry 7 percent of Lebanon's waste should require storage.
Ramco's waste-management system does not appear to fulfill that potential. When its garbage trucks pass by, the scavengers, especially the children, run off as the workers begin to fill the trucks with trash.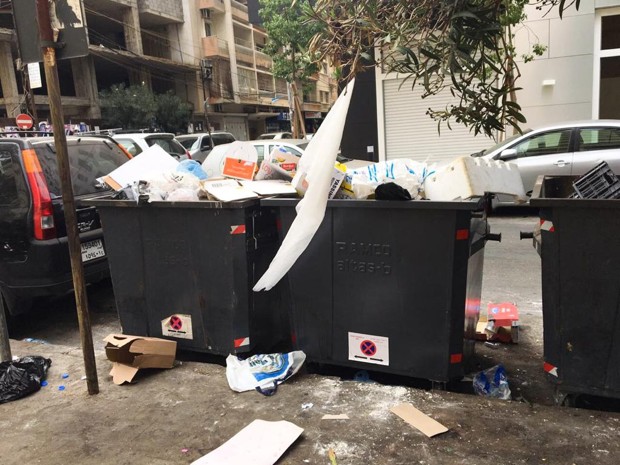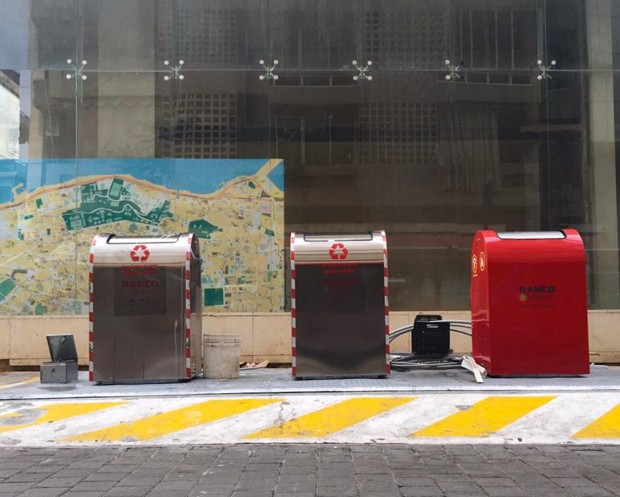 Based on observation and videos from around Beirut and Mount Lebanon that have circulated in activist networks, standard practice seems to be to dump all garbage—whether unsorted or placed in special red recycling bins—into the same truck, a compactor truck with one compartment. According to environmental engineer and activist Ziad Abi Chaker, this makes recycling and composting virtually impossible.
"The glass bottles are broken and mixed with [the organic material]," Abi Chaker said. "The effort [to separate them] is gone to waste." Abi Chaker argues that roughly 80 to 90 percent of organic waste can be composted, which would create jobs and stimulate Lebanon's ailing agricultural sector.
Even the ministry of environment concurs with Abi Chaker. Although compactor trucks are more efficient, they reduce the quality and quantity of recycable and compostable material because of "[cross-]contamination" and "commingling" of waste, reads the above-mentioned report. The report estimates that 20 to 30 percent of recyclable cardboard and paper are rejected for contamination. A report by environmental consultants for the environment ministry in 2010 documented that less than 10 percent of recyclables were recovered nationally after waste collection, for the same reason. However, the actual percentage may be higher because of the informal scavengers.
Ramco declined several times to comment on its recycling and waste-sorting practices.
New system, same results
Ramco and the Beirut municipality recently introduced a new waste-collection system, which they have been installing around the city. Instead of the former clusters of dumpsters, usually with one red bin for recyclable material, the new system puts bins underground, with a small compartment above ground for people to throw in their garbage. Based on observation of the new bins, it can be difficult to insert garbage bags in the compartment, so many people just leave them on the street. And the process appears to remain the same: Whether it's been separated or not, all waste gets mixed in Ramco's white compactor trucks.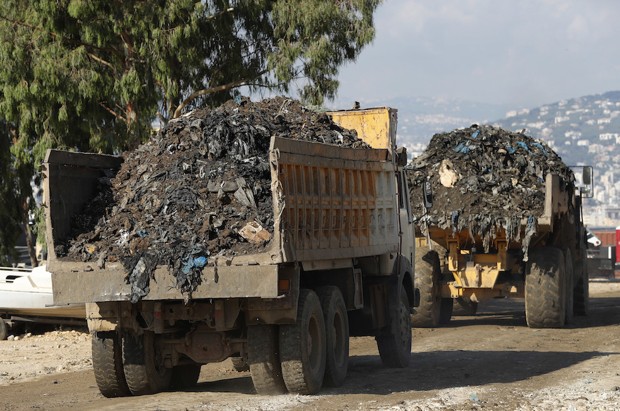 That waste ends up in one of two coastal landfills: Costa Brava, near Lebanon's only airport south of Beirut, or the predominantly Armenian suburb of Bourj Hammoud. Fishermen and residents of both areas have complained about foul odors and waste and leachate making their way into the Mediterranean Sea. The coastal landfills are temporary measures, eventually set to become "reclaimed land" over the water. (Land reclamation is not new in Lebanon; downtown Beirut's waterfront district was built over a dump filled with waste and rubble from the civil war.)
For-profit waste management tied to land reclamation is seen by Abi Chaker and many environmental activists as a huge hindrance to reform. "[Sorting and recycling] is long and hard work, and it's not profitable," Abi Chaker said. "[But] land reclamation is profitable …it's a wicked plan."