CityLab's recent analysis of the 2018 U.S. Congressional battle found a powerful connection between density and politics. The closer together people in a congressional district live, the more likely that district is to support Democrats, while districts where people life farther apart tend to be represented by Republicans.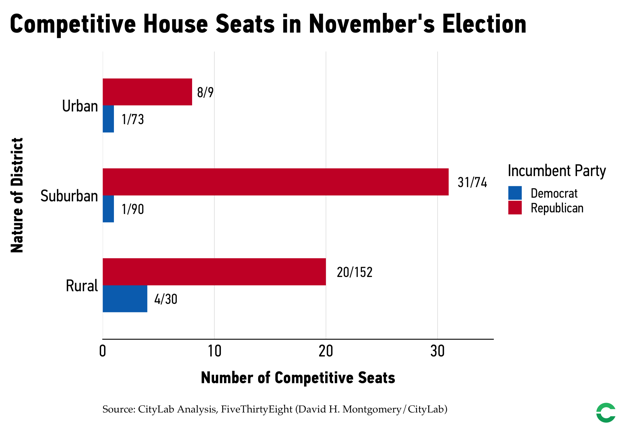 Predominantly suburban districts are highly competitive this election, with dozens of seats—mostly held by Republicans—in play. The hundreds of predominantly rural or urban seats are less competitive, with rural seats tending to be safely Republican and urban ones safely Democratic.
But density isn't a perfect predictor of politics. There are millions of Republicans living in big cities and millions of Democrats living in the country — they just usually get outvoted. But not always. Here are some exceptions to the rule that density equals Democrats and rural equals Republican.
The urban Republican: The Staten Island effect
There are 34 purely urban congressional districts in the country. Almost all of them are overwhelmingly Democratic.
The exception is New York's 11th Congressional District, located entirely within the borders of New York City, and currently represented by Republican Dan Donovan. More than 90 percent of the district's residents live in high-density neighborhoods, a situation that is usually associated with support for Democrats.
But New York's 11th District, largely coterminous with Staten Island, has long been noted as "a rock-ribbed Republican redoubt in a sea of blue," as Seth Barron described it in City Journal. Republicans have represented the area in Congress for decades, and Donald Trump won 75 percent of the vote in a state legislative district on Staten Island's south shore—levels Trump usually only reached in the country's most rural counties.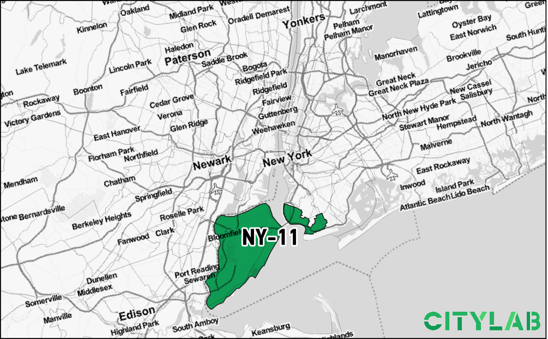 Although the politics is counter-intuitive, density may still play a role. Though Staten Island is denser than most of the country—it has more people per square mile than all but 10 of the more than 3,000 U.S. counties—it's also the least dense part of New York City. In Barron's analysis, Staten Island "has long represented conservative values traditionally associated with suburban rather than urban polities": the "quintessential 'outer borough'."
This Republican lean seems likely to continue despite the area's density. Donovan, the current representative from New York's 11th District, currently has about an 80 percent chance to win against Democratic challenger Max Rose, according to FiveThirtyEight's forecast.
Majority-Minority Rural Democrats
On the other side of the spectrum, we have pure rural districts, of which Republicans control 60 of 70. Who are the 10 Democrats holding on to these highly rural districts, and are they likely to continue?
Three of these districts are consistently Democratic despite their rural nature, and seem unlikely to change. That's because of a factor with even more salience in modern American politics than density: race. Mississippi's 2nd District and South Carolina's 6th District are both predominantly rural and majority black. New Mexico's 3rd District is also majority-minority, with 40 percent of its residents identifying as Hispanic and a significant Native American population. Those districts didn't just vote for Democrats for Congress; they also voted for Barack Obama and Hillary Clinton in recent presidential elections. All three Democratic incumbents are seen as safe.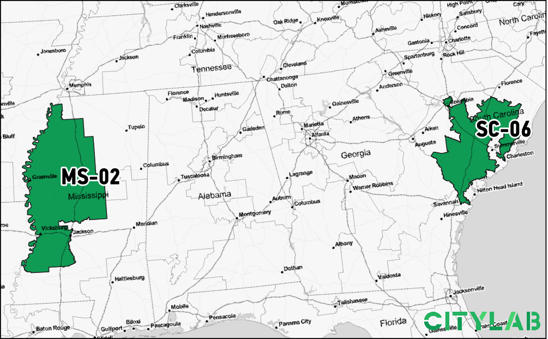 The rest1 of these rural Democratic districts are places where some combination of race, culture, and history explain Democratic success despite the odds.
One is a swing district with a large but not dominant population of people of color. Arizona's 1st District has large Hispanic and Native American populations, though it also has significantly more white voters than New Mexico's 3rd District. Also unlike NM-03, it's not safely Democratic, and voted for both Donald Trump and Mitt Romney by modest margins. Despite this, it elected Democratic Representative Tom O'Halleran in 2016 after a competitive race. O'Halleran is a favorite to win another term this year.
Left leaners in Bernie Sanders country
Two outlier rural districts are in left-leaning New England. Vermont's At-Large District and New Hampshire's 2nd District are both white northeastern districts that gave Obama strong majorities in 2008 and 2012 before moving right in 2016, with New Hampshire's 2nd the more conservative of the two.
Both are heavily white and well-educated, with NH-02 slightly wealthier than Vermont. Vermont has been represented by left-leaning politicians ever since 1990, when a 49-year-old mayor named Bernie Sanders was first elected to Congress. New Hampshire's 2nd District is more competitive: Trump nearly won it in 2016, and it's been represented by a Republican in Congress as recently as 2013.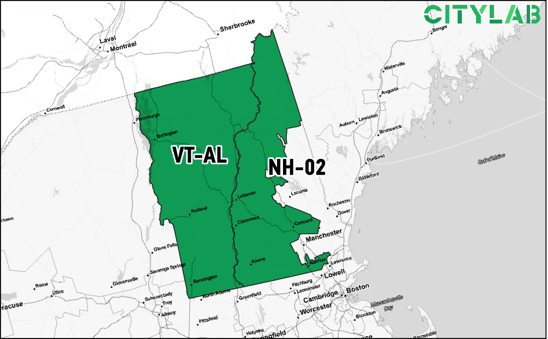 Midwest Democrats: Mining towns, blue dogs, and driftless area
Three of the remaining rural Democratic districts are in the upper Midwest, and moved sharply to the right in the 2016 election.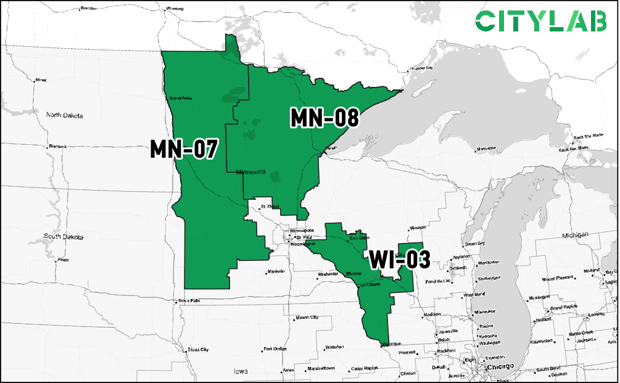 Minnesota's 7th District is the most conservative of the three, both today and historically. It voted for Ronald Reagan and George H.W. Bush in the 1980s, Bill Clinton in the 1990s, and Republicans ever since (with changing but similar boundaries). But ever since 1992, it's been represented in Congress by Democrat Collin Peterson, one of the last of the old "Blue Dog" coalition of conservative rural Democrats. Peterson continues to win, even in 2016 when Trump won his district by 30 points, but local Democrats expect the area to go Republican whenever Peterson retires.
East of the 7th is Minnesota's 8th District, an ancestral Democratic stronghold thanks to the strong organized labor movement in the district's mining towns. Despite this generations-long support for Democrats, the district has shown conservative social values, including opposition to same-sex marriage in a 2012 referendum, and in 2016 it swung to Trump after voting for Obama in 2012. Incumbent Democratic Representative Rick Nolan won anyway, but he's retiring, and FiveThirtyEight gives Republican Pete Stauber an 80 percent chance to beat Democrat Joe Radinovich this fall.
In nearby Wisconsin, the 3rd District also has historical Democratic roots, voting for Democratic presidential candidates from 2000 through 2012 before Trump won it in 2016. Just as Minnesota's 8th is culturally distinct because of miners on the Iron Range, Wisconsin's 3rd is part of the "Driftless Area," a multi-state region that was bypassed by glaciers and is noted for being relatively progressive. Democrat Ron Kind has represented the 3rd since 1997 and is seen as a lock for reelection in 2018.
These exceptions aside, the patterns across most districts remain clear. It is density that largely determines or political density. And this midterm, the election will be decided in the suburbs.
One of the ten rural Democratic districts isn't actually a rural Democratic district at all, but rather a fluke of this year's odd election map: Pennsylvania's 13th District. It's currently occupied by Democrat Brendan Boyle, and unsurprisingly, it's not rural at all, but located within the Philadelphia metro. But Pennsylvania's Supreme Court redrew and rearranged the state's congressional district map this year, so starting in January, Pennsylvania's new 13th District will be rural southwestern Pennsylvania. It's overwhelmingly Republican and election analysts expect it will be represented by a Republican after November's election. CityLab's Congressional Density Index used the boundaries that will be in effect in 2019 for its analysis. Reshuffled Pennsylvania districts also create apparent outliers in other categories, including a second seemingly urban Republican who actually represents a rural district that's being reclassified as a Philadelphia seat.