In the spring of 2017, California Governor Jerry Brown and the state's Democratic lawmakers pulled out the stops to do nearly the least popular thing for politicians to do: They raised the gas tax by 12 cents per gallon.
The increase didn't just cover gasoline. Diesel fuel also got hit with an extra 20 cents per gallon, and annual vehicle registration fees got bumped from anywhere between $25 to $175, depending on the car's value. To raise roughly $5 billion per year for statewide transportation infrastructure repairs and improvements, Senate Bill 1—which was packed with earmarks for communities in the rural Central Valley, which tend to get short shrift compared to urban regions when it comes to state transportation funding—gave California the second-highest gas tax nationwide, along with some of the priciest unleaded in the land.
But for how long? On Tuesday, California voters will revisit SB 1 with Proposition 6, which would roll back last year's fuel tax and vehicle fee increases, in addition to requiring voter approval for such hikes in the future, even those approved by governors and legislators.
"This is not just about roads," Carl DeMaio, the chairman of the Yes on Proposition 6 campaign, told Sacramento's Capital Public Radio in September. "This is about cost of living. And a 'yes' vote on Prop 6 gives an immediate cost of living reprieve for working families who are barely making ends meet as it is."
The effort has been about more than that, though. California's conservative leadership hopes that the gas tax can galvanize GOP voters in this heavily Democratic state. That appears to be why Republican gubernatorial candidate John Cox—who's been given little chance of winning over Democratic candidate Gavin Newsom—has made the issue a focal point of his campaign. In tightly contested districts around San Diego, Orange County, and the San Joaquin Valley, where Democratic contenders are challenging Republican seats, that is a reason to watch how the ballot measure performs.
So far, early turnout by Republicans in some of those areas has been strong. But statewide, Proposition 6 is facing long odds. Supporters of the gas-tax rollback have been far outspent by its opponents, including outgoing Governor Jerry Brown, who has funneled tens of millions of dollars from campaign funds to defeat the initiative. (Brown also made a rare pre-election appearance—his only campaign cameo this year—at a Bay Area rally last week, specifically to slam the initiative.) Recent surveys by the Public Policy Institute of California and the Institute of Governmental Studies at the University of California, Berkeley indicate most voters plan to veto the proposal. By now, DeMaio has all but admitted defeat.
That is likely a positive sign for the future of transportation in California, on which Proposition 6 is something of a referendum. Though this proposition is called a "repeal," that isn't quite accurate, since the tax would return to its previous rate if this measure passed. But it would serve to eliminate a rare source of sure funding—some $54 billion over the next decade—for the state's deteriorating mobility infrastructure. Since SB 1 passed, about two-thirds of its proceeds have gone to road repairs and highway improvements, and the rest to mass transit. Already, more than two dozen road maintenance and safety improvement projects for drivers, cyclists, and pedestrians have been completed by the California Department of Transportation, while cities and counties have received hundreds of millions of dollars in matching funds for local projects. "Our pavement condition is deteriorating rapidly, and the $850,000 we got this year is not chump change to us," one official from Turlock, a city in the upper Central Valley, told state legislators at a hearing on the repeal initiative in June.
While most of SB 1's annual revenues go to highway and road repairs, about $750 million is set aside for public transportation. An additional $100 million per year pays for pedestrian improvements and cycling infrastructure, projects meant to nudge Californians out of automobiles when they need to get around. After all, Californians are as addicted to private cars as the next American, as Ned Resnikoff, a journalist and graduate student in public policy at UC Berkeley, explained in a New York Times op-ed last month. The state may lead the U.S. on scaling back carbon emissions, but transportation emissions are on the rise there as they are nationwide. More car-free trips would help California stay on track towards its climate goals.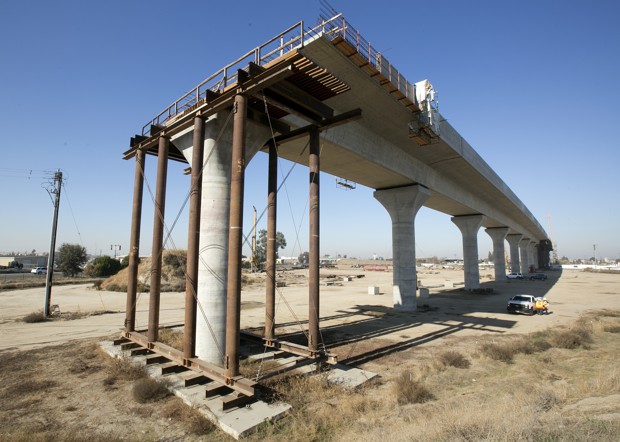 Transit agencies around the state have been accordingly vocal about what cutting these funds would mean for their work. L.A. County Metro is in line to receive funding through SB 1 for several significant construction efforts, including a train line that would help connect airport travelers to LAX, a transit line that cuts through the traffic-clogged Sepulveda Pass, and tons of freeway repair work. Metro predicts that these projects, many of which it hopes to complete by the 2028 Olympics, could be delayed by three to five years if the repeal is passed. Elsewhere, transit service would have to be eliminated: The Orange County Transportation Authority has said it would have to reduce bus service by 11 percent if the repeal passes, while up north in Monterey County, some 26 bus routes and para-transit lines could be threatened. In the Bay Area, BART would be particularly hard hit by a gas tax rollback, as it would increase the operating budget gap it is already facing to an estimated $500 million.
Without the extra tax revenues, how would the state pay for such projects, or indeed, fix the potholed highways that cost California drivers an estimated $843 annually in extra gas and vehicle repairs? Supporters of Proposition 6 have argued that state legislators have been squandering many of the proceeds from SB 1 in the first place, "diverting" the funds from roads to projects such as bike lanes and transportation job training. (A Politifact analysis in May 2017 rated a similar claim as "mostly false"—such uses are valid under the law.) Perhaps in part to address the question of where the rest of funding would come from, in late September, Proposition 6 supporters came up with another initiative, this one for 2020, that would cancel the state's controversial $100 billion high-speed rail project and require that all gas tax proceeds be used for roads alone.
That effort is also probably unlikely to succeed, even if Proposition 6 flops, says Robert Cruickshank, a transportation policy consultant and rail advocate who authors the California High Speed Rail blog. The project—on which construction is underway in parts of the Central Valley—has been beset by cost increases, construction delays, engineering issues, and countless lawsuits. But previous attempts by citizen groups to cancel the "bullet train" via ballot measure have failed, and support today remains about as evenly divided today as it was in 2008, when California voters passed a $9.9 billion bond to kick off the plan. "People either love or hate it, but there is little back and forth," said Cruickshank.
More important for the future of high-speed rail, he said, is whether California's next governor champions it, as Brown has and as his Republican predecessor, Arnold Schwarzenegger, did. Newsom has wavered on his support for the beleaguered project, and could decide it's not worth the political capital if he takes office in January. Cox has pledged to cancel it if he wins, and that he'll "talk to Elon Musk" about drilling underground tunnels instead.
It's very hard to see how construction costs would favor Musk's Hyperloop over high-speed rail as a San Francisco-to-Los Angeles connector. But beyond that, what would nixing the country's most ambitious rail project mean for California's future? As the state's population rises, particularly in its poorer and more polluted regions, demand for travel and room on the road is expected to grow. Fewer alternatives to highway travel options would likely mean more vehicles, more miles, and—even with electric vehicle adoption on the rise—more emissions off the road.