HOUSTON—It is one of the most desirable endorsements imaginable in this part of Texas ahead of the midterm elections: not the backing of a famous politician, actor, or musician, but the support of a fast-talking furniture salesman with a penchant for publicity stunts.
"I know of no Texan in Washington who took care of Houston better during the aftermath of Hurricane Harvey than my friend John Culberson," says Jim "Mattress Mack" McIngvale in a political advertisement filmed in one of his Houston-area stores for Culberson, a Republican incumbent facing a tough reelection battle in Texas's 7th congressional district.
Stretching from near downtown Houston to the far western and northwestern suburbs, this traditionally Republican seat once held by George H.W. Bush, but that voted for Hillary Clinton in 2016, is one of the most-watched races nationally because of the strong chance that it flips on November 6. It also feels like a glimpse into a climate change-affected future, where politicians are expected to account for their actions or inaction in the face of more frequent and acute disasters.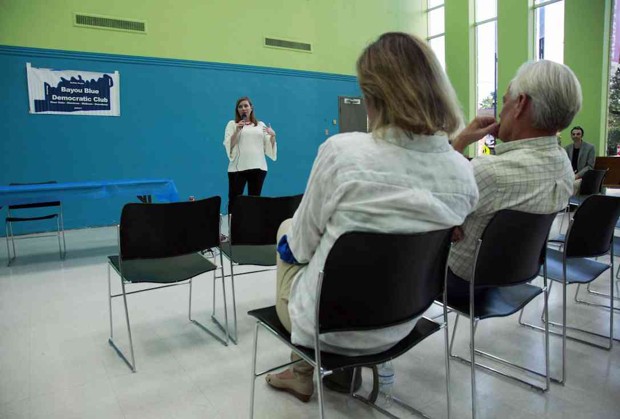 Fourteen months on from the storm that devastated much of the region and inundated many homes in the district, hurricane prevention and recovery is front and center in the campaigns of Culberson and his Democratic rival, Lizzie Pannill Fletcher.
Hence the ad appearance by "Mattress Mack," who was widely hailed after Harvey for turning his showrooms into shelters and raising money for victims. That makes him an especially valuable figure for the Culberson campaign, which is touting the nine-term incumbent's record on securing federal disaster relief funds following Harvey—while Fletcher argues that the storm was so catastrophic because her opponent failed to deliver adequate flood prevention.
Recovery was the first topic when the pair faced off on a debate stage at the University of Houston on October 21. After Harvey and Irma, Culberson, a member of the House Committee on Appropriations, told the audience: "I immediately got the Florida and Texas delegations together in a bipartisan way and organized passage of the largest hurricane recovery package in the history of the United States." This, the 62-year-old said, is "a good illustration that I'm the right person at the right time and the right place for Houston as the only appropriator from southeast Texas."
Fletcher, a 43-year-old lawyer, responded: "It shouldn't take a Hurricane Harvey to get our member of Congress to act and to work to build our flooding infrastructure. We have known that flooding is a problem since [Tropical Storm Allison in] 2001."
She added: "We've had chronic flooding during your entire tenure. So it's not the right place and the right time after Harvey; the right place and the right time was before Harvey. We cannot simply react to disasters. We have to be proactive; we have to look ahead at what is coming, and we have to look to the future."
Climate and environmental matters are a factor in races small and large across the country. In Florida, media attention on the problem of "red tide" algae is putting the state's Republican governor and Senate candidate, Rick Scott, under the spotlight for his environmental record. In the state's 26th congressional district, which encompasses the Everglades and the Keys, rising sea levels are such a core concern for voters that the Republican incumbent, Carlos Curbelo, has broken with his party's general skepticism toward climate change by addressing the matter head-on and proposing a carbon tax.
In California's 48th congressional district, in Orange County, an environmental advocacy group is assailing the Republican incumbent, Dana Rohrabacher, with an ad that mixes images of wildfires with a clip of him declaring, "Global warming is a fraud." And in Howard County, Maryland, recent devastating flooding in the historic town of Ellicott City has become a major issue in the race for county executive.
Brandon Rottinghaus, a political science professor at the University of Houston, expects denial of climate science eventually to become an untenable position in the U.S. "The kind of head-in-the-sand attitude that many Republicans have taken is not sustainable in the long run," he said. "In the future, climate change is going to be a swing issue where voters may use that as a key point to switch their votes."
Today, however, the topic is delicate in Texas's 7th district, where Fletcher is aiming to woo disaffected moderate Republicans. She has not made climate change a fundamental wedge issue even as she accuses Culberson of failing to defend the city from increasingly harsh weather. Though many who live along the Buffalo and Brays bayous endured terrible flooding, the district contains some of Houston's most affluent neighborhoods, and substantial numbers of their residents work for oil and gas companies.
"Out of a hundred people who answer a knock on the door, maybe two of them will say something about climate change. And that's among the Democrats," said Bill Heins, a 57-year-old geoscientist who has been campaigning for Democratic candidates in the district.
Memories of Harvey's horror have faded, Heins said, especially among those who stayed dry. "I'm struck when I go through neighborhoods that have obviously been really hit hard by the flood, and people open the door and I'm ready to talk about flooding, and they're talking about something else."
Rottinghaus said he thinks of it as still a marginal issue. "If you weren't affected directly by Harvey, you probably don't use it as a frame to evaluate incumbents in office, and I think it's been long enough that many people have simply forgotten. The politics of daily life are swallowed up by a tremendous number of national and international events, and [that] has I think largely muted the effects of even something as massive and impactful as Harvey."
When Harris County passed a $2.5 billion flood-control bond in August, the turnout was below 7 percent of registered voters. Still, with the 7th district race too close to call—a recent New York Times/Siena poll gave Culberson a single-point lead—even something that only a minority of voters care about could prove decisive.
"For Fletcher, the goal of picking up some voters who may be disgruntled over Harvey is worth the extra discussion," Rottinghaus said. "I think, too, for Fletcher the general thrust of her criticism is that Culberson has not been there for voters. And what better way to illustrate that than to talk about it in the context of Harvey?"