The current political geography of the United States was forged eight years ago, when Republicans swept back from the political wilderness to seize control of the U.S. House of Representatives. This year, Democrats have the opportunity to disrupt the new normal once again if they succeed in sweeping a blue wave through the suburbs.
That new normal is Republican dominance in rural districts, and it didn't exist before 2010, according to an analysis using CityLab's Congressional Density Index, which categorizes districts by their makeup of urban, suburban, and rural neighborhoods. CityLab's past analysis has found that density is increasingly correlated with politics, and that the suburbs will be the swing districts in the November House election.
Looking back at the history of congressional results and density, we can see that while Republicans often won rural areas, especially in presidential elections, rural America was very much up for grabs politically. In 2008, Democrats actually won a majority of the districts CityLab classifies as "pure rural."
On November 2, 2010, that ended. Republicans picked up seats just about everywhere during that midterm election, including six districts classified by CityLab as "sparse suburban", six as "dense suburban" districts, and even a pure urban district (based around New York City's Staten Island).
But the real landslide was in rural areas. This map shows the classification of every 2010 House district, with Democratic districts the GOP won in the 2010 elections outlined in red. Most of their pickups were in the country's "pure rural" and "rural-suburban mix" districts: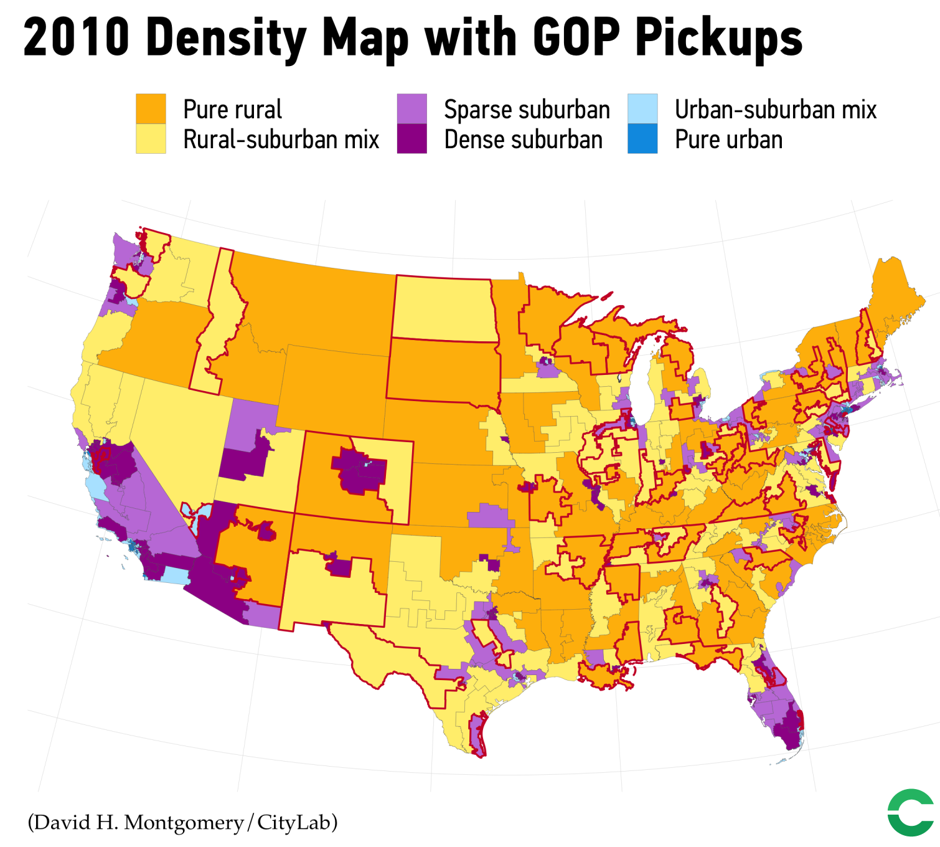 Overall, Republicans picked up 20 rural-suburban mix districts in 2010, and a stunning 31 pure rural districts. They would have won a majority even if they hadn't picked up any predominantly suburban seats, simply on the basis of their overwhelming gains in rural areas.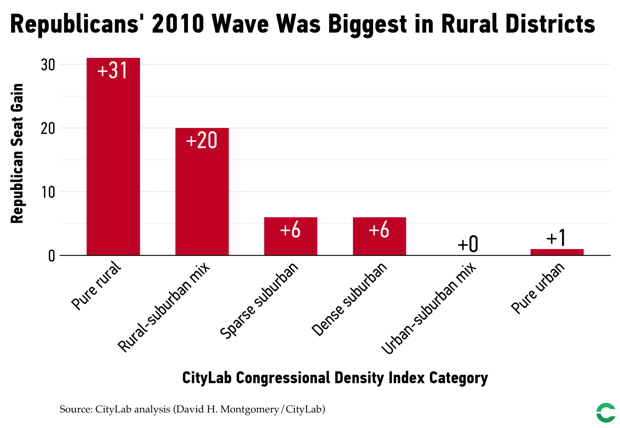 Republicans in 2010 won more than half of all the Democrat-held districts with significant rural areas, taking Democrats from nearly half of these districts down to less than a quarter. Democrats have never really recovered—today they represent just around 15 percent of rural districts, and many of them have particular reasons beyond density (such as racial diversity) explaining Democratic strength.
The urban-rural divide has grown much wider
The 2010 election didn't invent the urban-rural political divide. Long before that wave election, Democrats generally did best in cities and worse in less-dense areas, especially in presidential elections. But the divide was much smaller in the 2000s than it is today. Al Gore averaged 42 percent of the vote in pure rural districts and 75 percent in pure urban districts; 18 years later, Hillary Clinton averaged 33 percent in pure rural districts and 82 percent in pure urban ones.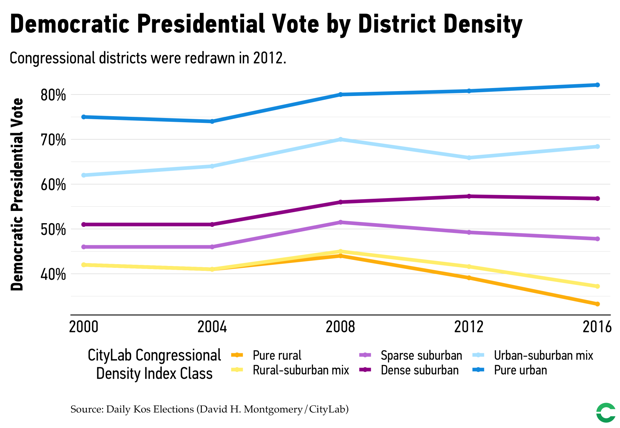 At the congressional level, Democrats didn't just fall off a cliff in rural areas. They've also become even stronger in the densest districts, giving them more votes for statewide and national elections but widening America's political gulf between the cities and the country.
Democrats' 2018 gains will mostly come in suburbs, not rural districts
Democrats are favorites to retake control of the House of Representatives in Tuesday's election. But if they do so, they won't do it by retaking all those rural districts they lost in 2010. Instead, they'll be making gains in suburban districts.
As of now, FiveThirtyEight projects Democrats will have a net gain of just five of 149 predominantly rural Republican seats—versus 23 extra predominantly suburban seats.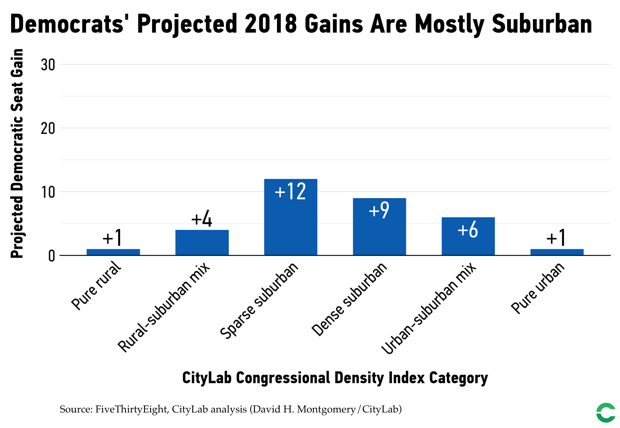 The end result would be a Democratic House majority with a very suburban feel to it. Before 2010, when they controlled 256 seats in Congress, the Democratic caucus was about equally divided between rural, suburban, and urban members. The 2018 version, as projected right now, will likely be more than half suburban, and only 15 percent rural.
This isn't surprising to many political demographers, who've seen growing Democratic strength in suburban districts for some time. In the 2004 congressional elections, Democratic candidates averaged just 43 percent of the vote in dense suburban districts. In 2016, they averaged 59 percent. That reflects suburbs growing denser and more diverse — both factors associated with support for Democrats.
Visit here to see a full listing of 2010 House districts' categorization under the CityLab Congressional Density Index, and also to see the the model's methodology.