What started out Wednesday night as a college country music night at the popular Borderline Bar & Grill in Thousand Oaks, California, ended up as the deadliest shooting in the state since 2015. At around 11:20 p.m., a gunman entered the bar and fatally shot at least 12 people, including Ventura County Sheriff's Sgt. Ron Helus, who was first to respond to the 911 calls. Also dead is the the gunman, a 28-year-old Marine veteran named Ian David Long, who was discovered by police inside the bar.
Thousand Oaks is a city of 129,000 people located 40 miles west of Los Angeles. As The Atlantic reported, it's considered one of the America's safest cities, a well-off suburban area where, according to Census data, median household income hovers around $101,000. At the time of the shooting, the venue was holding its "College Country Night," and the bar was filled with students from nearby schools like Pepperdine University and Cal State Channel Islands. "The reality is that these types of incidents can happen really at any place, at any time, even in communities that are considered extremely safe," Mayor Andy Fox told CNN.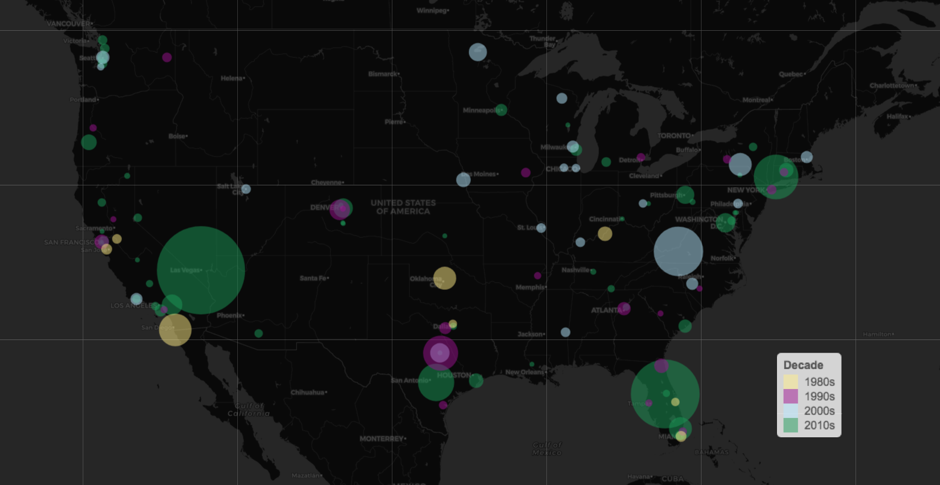 Indeed, data compiled by Mother Jones of mass shootings in America since 1982 show how geographically widespread these incidents of gun violence are. In the map above, "mass shooting" is defined as an incident during which four or more people, excluding the shooter, are killed during a single attack in a public place. Each dot represents a mass shooting that has taken place, and the colors indicated which decade they happened. The size of each dot indicate the number of fatalities.
Wednesday's attack comes just over year after a gunman killed 58 people and wounded more than 500 at a music festival in Las Vegas —the deadliest mass shooting in modern American history. (According to the L.A. Times, some of the Thousand Oaks survivors say there were also at the Las Vegas shooting.) And it has been less than 2 weeks since 11 people were killed in an anti-Semitic attack on a Pittsburgh synagogue.
As CityLab's Richard Florida wrote after this year's high-school shootings at in Parkland, Florida, affluent suburban areas like Thousand Oaks are not immune to this kind of gun violence. Analyzing demographic data from mass shootings dating back to 1971, Patrick Adler of the Martin Prosperity Institute found a wide diversity of communities were represented.
The places that suffer mass shootings run the full gamut of American communities. Some are small, affluent, white suburbs. But the reality is that these tragedies occur in large cities and small towns; in rich, poor, and middle-class places; and in racially mixed as well as predominantly white communities.
Communities affected can have household incomes as high as $180,000 and as low as $30,000. Most attacks happen in middle-class areas and are relatively rare in very rich and very poor communities. They happen in both predominantly white communities like Thousand Oaks and more diverse enclaves like Pittsburgh's Squirrel Hill, where the recent synagogue attack took place.
What has changed in recent years, however, is how frequent and how deadly mass shootings have become.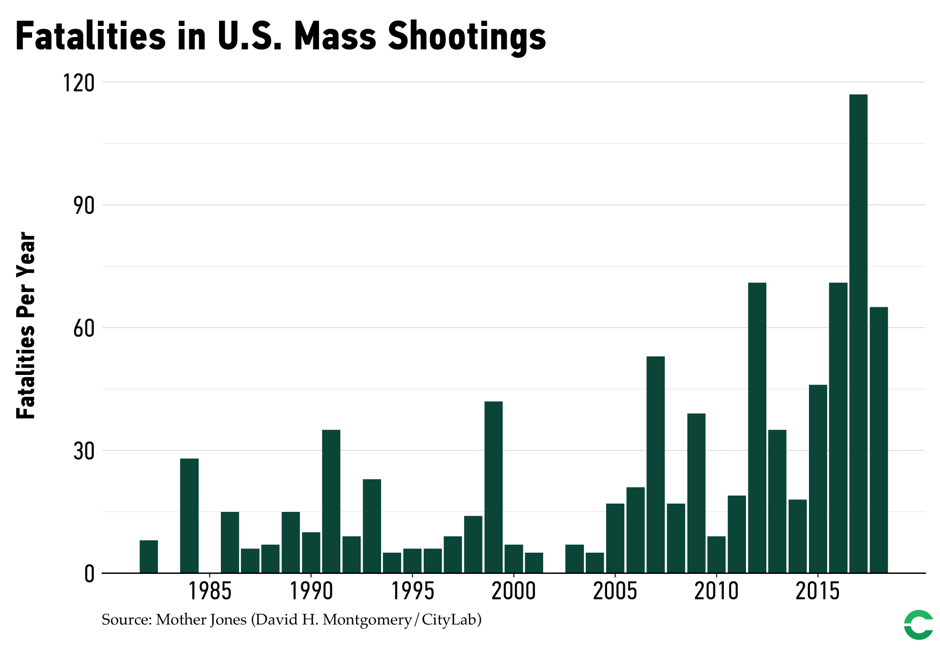 As CityLab previously reported, between 1996 and 2002 there were 13 mass shootings that killed a total of 83 people. From 2003 to 2009, 14 mass shootings left 120 dead. Since 2010, there have been 49 mass shootings killing a total of 473 people, with incidents like the ones in Las Vegas and at the Pulse nightclub in Florida in 2016 having markedly higher fatalities and injuries. In 2018, America has already seen 11 mass shootings, the same number in all of 2017.
The calls for tightening America's gun laws that inevitably follow mass shootings may have a somewhat different tenor after this incident: The 2018 midterm elections advanced several Democratic candidates, like Colorado's Jason Crow, who campaigned heavily on stronger gun regulations. Reform-minded advocates are hoping that impending shift in Congress might finally change what has become a very familiar conversation about gun control in America.