Distracted by the ornate gable stones and characterful stores and cafes, most visitors to the Zeedijk, one of Amsterdam's most popular streets, fail to notice the small metal plaques affixed to buildings. The red squiggle under the estate-agency name depicts the L-shaped contour of the street. This is the symbol of the real estate agency NV Zeedijk, a community scheme without which this cheerful high street might never have existed.
Draped like a protective arm around the northeastern shoulder of Amsterdam's oldest settlement, the medieval Zeedijk (pronounced sea-dike) once held back the sea. As the city expanded and the wealthy merchants moved further out, the street took a different battering, lurching from sailors' sex den in the 18th and 19th century to Amsterdam's most notorious street in the 1970s and 80s, when drug dealers, thieves, and heroin addicts made it their territory.
"If I had somebody coming over to have dinner, I had to pick them up. I had to guide them through the area, otherwise it would have been too dangerous," recalls Eddy Appels, an anthropologist and documentary-maker who moved to the Zeedijk in 1985. "It's not nice to open your curtains and see junkies and dealers and people getting ripped off. There were needles everywhere … I've seen people stabbed, robbed at knife-point—it was really, really bad."
Much of the heroin originated from the East, and the Zeedijk, the heart of Amsterdam's Chinatown, was an obvious marketplace for it. Addicts, drug tourists, impoverished Dutch-Surinamese immigrants, and tormented artists such as Beat Generation poet Gregory Corso and jazz musician Chet Baker—who would die there—washed up on the Zeedijk, many in search of a fix.
The residents began to move out. Some buildings were occupied by squatters—victims of high unemployment and a housing shortage. "There were a lot of houses that were abandoned and really falling apart," remembers Appels. "Nobody wanted to invest in the area." The residents watched their district implode.
On May 19, 1983, they stormed the council chambers. Showering the room in icing sugar from small bags labelled "heroin," they demanded that something be done to return the street to the people that lived there. The result was increased policing and a treatment-based approach to tackle heroin addiction. But it was the residents, led by Jack Cohen, chairman of a community security organization, who provided the biggest turning point by proposing that the municipality buy up the neglected houses and rehabilitate them.
Under considerable political pressure to act, the municipality joined with the city business association and the community center, to put up financial backing that was later supplemented by investment  from banks and property firms that feared the decaying Zeedijk would devalue real estate in neighboring areas: Limited company NV Zeedijk was founded in 1985 under the directorship of Jack Cohen.
Bulldozing the dilapidated buildings and replacing them with modern structures might have been more cost-effective, but this public-private real estate agency, like the original sea wall, had a mission to preserve and protect.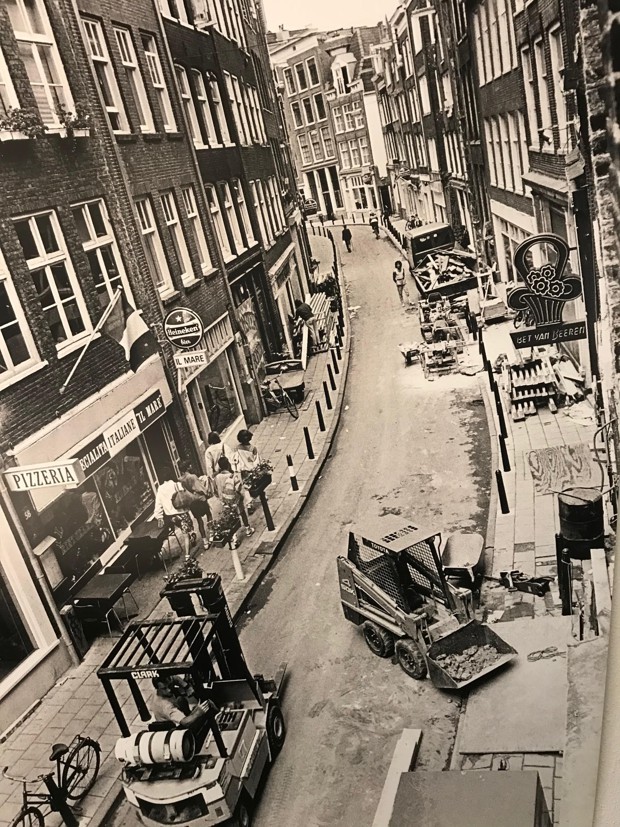 It worked. "People started to move in again," says Appels. "The residents felt that it was their area again." The Zeedijk has since become a symbol of resilience. While neighboring streets have succumbed a sea of tourist tat, today's eclectic Zeedijk still has a butcher's, a fishmonger and a newsagent, and a village atmosphere that is becoming scarce.
Creating an appealing high street requires a long-term view, believes Bram Merkx, general manager and co-founder at the shop Mary Go Wild, (Zeedijk 44) dedicated to club culture and dance music. They were struggling to find affordable business premises until the team discovered NV Zeedijk in 2014. "They provided us with a good start-up plan," he explains. "They gave us the chance to invest in creating a really nice shop."
"We started on zero rent and we grew into regular rent in a year's time," he continues, about his store which sells an eclectic mix of items including books, clothing, and records. "If I want to open a place and earn enough money to pay my first bill within three weeks, then I'd better start selling ice cream or pancakes." Supporting new entrepreneurs, he says, is key to combating homogenization.  
Recognizing that Amsterdam is fast being bought up by property speculators and wealthy expats, NV Zeedijk, which is 75 percent funded by the municipality but independently run, hopes to buck the trend in its residential lettings, too.
The rent-controlled sector accounts for a hefty 50 percent of Amsterdam's housing stock, and is managed mostly by housing corporations. Some, however, is in the hands of private owners, and if it's in lucrative, high-demand areas such as the city center, risks being liberalized once a tenancy contract expires.
In accordance with city policy, NV Zeedijk has maintained existing rent-controlled housing contracts, which account for a third of their housing stock. But even with its mid-market and free-market properties, where the agency has freedom over the rate, they keep the rents as affordable as possible, while still generating sufficient income for reinvestment.
"We could make a higher revenue on our portfolio, but we choose to keep diversity," said Thijs Reuten, project leader for NV Zeedijk, while sitting in the agency office (Zeedijk 47) surrounded by giant black and white photographs proudly documenting the street's transformation.
While the stereotype of real estate agencies is that they are untrustworthy and greedy, NV Zeedijk's objectives are social. "The money is reinvested in new properties and also more affordable housing in the area," explains Reuten. "Unlike some landlords, where it is probably being invested in their holiday villa."
Airbnb lettings are prohibited and prospective tenants must submit a letter of motivation outlining their enthusiasm for the area and how they intend to contribute to it. NV Zeedijk considers longer tenancies important in building a community and, recently, when a change in a tenant's circumstances meant that he needed something cheaper, the agency helped him find an alternative property in their portfolio.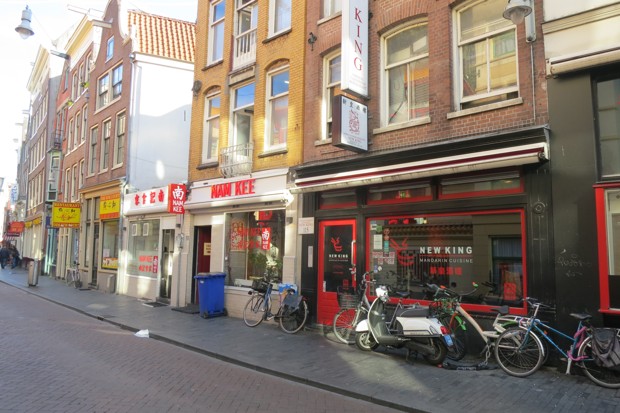 NV Zeedijk, explains Reuten, is "part of the neighborhood" and works closely with the residents. The agency supports the 'I live here' poster campaign, asking tourists to be considerate when visiting the area, and sponsors the annual Red Light Jazz festival. "That's why we have our office here [on the high street] and not in some industrial park," he says. "This office functions as a sort of point where people come with ideas. We have people who rent property with us that are also our main critics. We believe that only when you are open to criticism, can you really make your neighborhood better."
One such critic is Yin Lau, an NV Zeedijk tenant who has been practicing Chinese acupuncture and herbal medicine on the Zeedijk since 1996. It costs her approximately $2,085 a month to rent the premises for her business Kang Ren (Zeedijk 65-A), and she is feeling the flip side of gentrification. "The Chinese community is getting smaller and smaller," Lau says. "We can't pay these rents anymore." She's seen several Chinese businesses move to Rotterdam and The Hague, where rents are lower and fewer tourists means fewer parking issues for customers.
"Tourism is the follow-up of gentrification," says Eddy Appels with resignation—and, for him, it has made the Zeedijk uninhabitable again. Though he applauds the work done by NV Zeedijk, he is moving out at the end of the month, exhausted by an endless tide of thoughtless holiday-makers oblivious to the community that live there.
NV Zeedijk's strategy is expanding across the red-light district and another real estate organization, 2012inc (founded 2016), is emulating its methods. Tackling tourism is high on the agenda in the Zeedijk. No one knows if the old sea wall and its unique approach can defend the city against this latest onslaught.
"Amsterdam looks better than it's ever done," concedes Appels, "…but it comes at a price."