When word got out that Amazon is going to split its HQ2 between New York City and greater Washington, D.C., as the company made official today, many saw it as evidence of the widening gap between America's coastal superstar cities and the heartland. Amazon is expanding from Seattle, a successful tech hub on the West Coast, to the world's leading global city (New York) and the capital of the most powerful nation on Earth (Washington), both of which sit on the East Coast Acela corridor, equivalent to one of the world's largest economies. With Google planning yet another expansion in New York, here is another example of winner-take-all urbanism.
While that is certainly true, there are signs that some big tech firms are expanding away from the San Francisco Bay Area, long the dominant player in tech, to smaller and non-coastal places.
The maps below—from a new report by commercial real estate research firm CBRE on recent office expansions of big tech firms outside their home markets—shed light on the complex, evolving geography of big tech.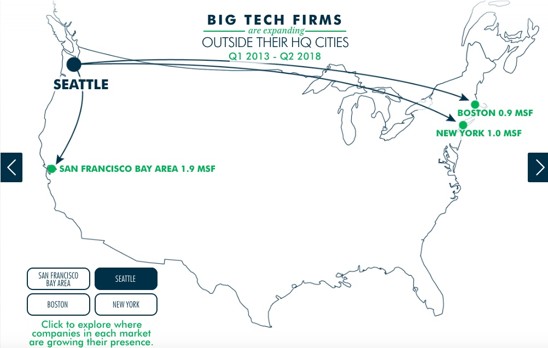 The first map shows the pattern for Amazon's home city, Seattle. Big tech firms based there mainly expanded in three other leading tech cities: San Francisco, New York, and Boston. (Interestingly, not greater Washington, D.C., where Amazon will locate a piece of its HQ2.)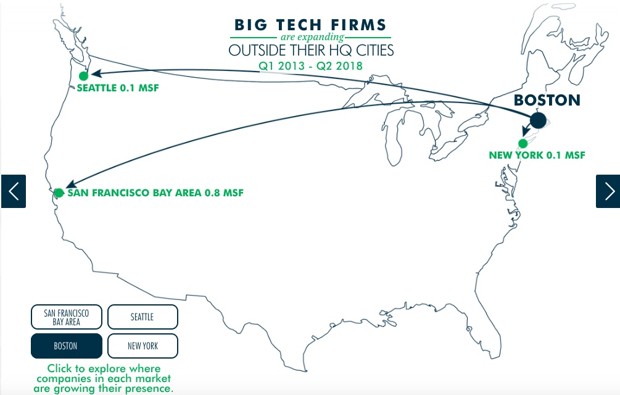 Now look at the pattern for big tech firms headquartered in Boston. Their biggest expansions are in San Francisco, followed by New York and Seattle.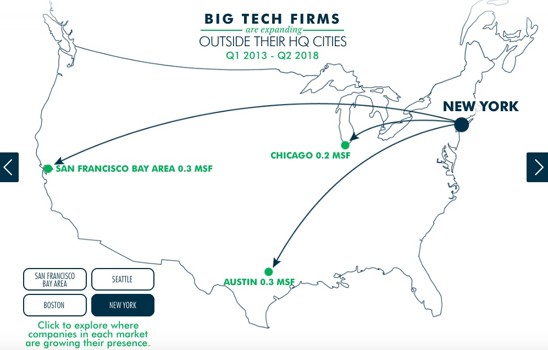 Next, consider New York, the nation's largest headquarters city by far, where half of HQ2 is going. Its big tech firms are expanding in the San Francisco Bay Area, but also in HQ2 losers Austin and Chicago.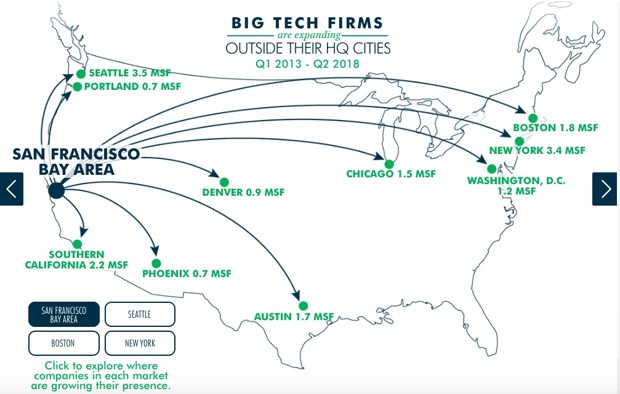 The most illuminating map is the one of the San Francisco Bay Area itself. For one thing, there are a lot more expansions outside of home base. Bay Area tech firms are expanding in New York, taking on considerable footprints in Washington, D.C., and Boston, establishing a big presence in L.A. and Southern California, and even more so in the Pacific Northwest.
But San Francisco's big tech companies are also setting up shop in less obvious cities, such as Phoenix, Chicago, Denver, and Austin. This is likely a reflection of San Francisco's metastasizing new urban crisis of high housing prices, escalating office rents, increasing competition for talent, and growing inequality.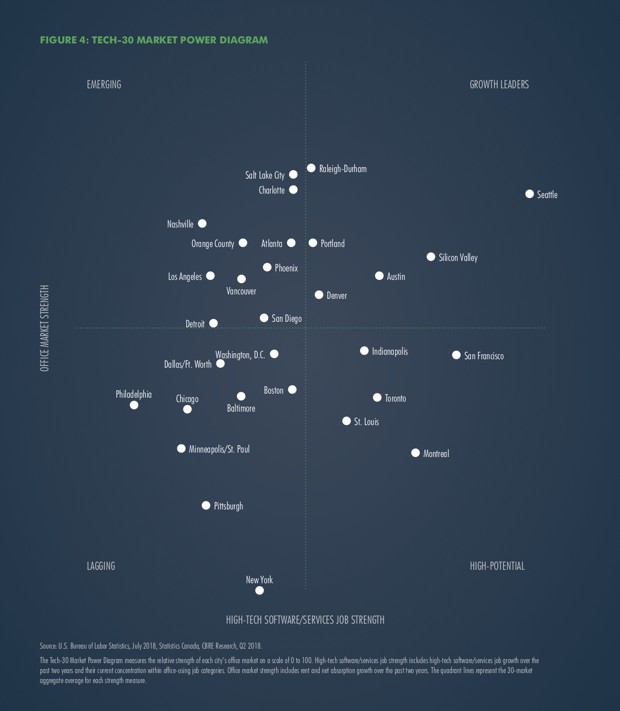 Big tech may reflect a winner-take-all geography, but some changes are afoot. Take a look at the chart above, which compares high-tech talent to office-market strength in the 30 leading tech hubs in the U.S. and Canada.
The far-right corner shows "Growth Leaders." Here we find the established tech hubs of Silicon Valley and Seattle, and the smaller hubs of Austin, Raleigh-Durham, Denver, and Portland. None of America's larger superstar cities make this category. San Francisco is listed in the lower right-hand quadrant labeled "High Potential," along with Toronto, Montreal, Indianapolis, and St. Louis.
Leading superstar cities (New York, Boston, and D.C.) appear in the bottom-left quadrant, "Lagging," along with Dallas, Chicago, Philadelphia, and Pittsburgh. In the "Emerging" quadrant above that is Nashville—where Amazon just announced it is opening a center for excellence for operations, with 5,000 jobs.
While it is true that the geography of big tech reflects a winner-take-all pattern, not everything follows the shift of Amazon and Google to East Coast superstar cities. Indeed, tech in San Francisco may be reaching a saturation point as many of its big firms appear to be heading elsewhere, including some smaller, "rise-of-the-rest" locations. I'll pick up on this theme in a future post where I look at the trend in headquarters locations for Fortune 500 firms.
CityLab editorial fellow Nicole Javorsky contributed research and editorial assistance to this article.