You know those corporate retreats, where people from different departments in a company get together for breakout events, brainstorming sessions, and a lot of eating and drinking? Imagine something like that, but for an entire city. You'd get On the Table, a one-day civic blitz put on by the Knight Foundation that uses meal sharing as a way to cook up civic dialogue.
The first On the Table event was held in Chicago in 2014, and has returned every May since; the foundation has now spread the franchise to 30 communities nationwide. "On the Table is a pretty simple idea: It's how do we get people to break bread together and then have solutions-oriented conversation about the community that they live in," said Lilly Weinberg, the Knight Foundation's program director of community and national initiatives. The program is part of a wave of similarly conceived philanthropic efforts aimed at busting Americans out of their ideological bubbles and salving the nation's fractious political culture."At a time where our country is incredibly divided, there's really been a hunger for in-person, face-to-face conversations," Weinberg said. "What we've found is that, at a hyperlocal level, what really matters is figuring out how to solve the challenges around us."
Philadelphia's On the Table day, held last week, comprised 400 different gatherings around the city, which reached about 5,000 Philadelphians. The program presented a daunting smorgasbord of choices: One could graze at a bagel-heavy smart cities breakfast with business and city leaders on Walnut Street, hit a lunchtime wrap session with some transit-oriented players to talk about the city's bus system overhaul, and then tuck into a community roundtable dinner at Philly's public radio station.
Knight program director and Philly native Patrick Morgan warned me to not overdo it, eating-wise: "It's a marathon, not a sprint."
That's the spirit of the whole day too. This isn't a foodie extravaganza so much as a citywide wonk-fest, with eating as a means of connecting people who might not otherwise be lured to the same table. And it's explicitly aimed at reaching beyond the usual community-meeting suspects, with an eye toward what comes next. According to a Knight Foundation survey, a third of those who met in 2017 made plans to get together again after their On the Table conversations. In turn, participants also become civic ambassadors for what's discussed at the event. The event's organizers hand out more than just sandwiches: In Philly, Knight offered up 50 micro-grants of $1,000 for participants to pitch an idea, in conjunction with the co-host the Philadelphia Foundation.
"Philadelphia has made great strides in opening up opportunities for people to take part in civic decision-making," said Patrick Morgan, Knight Foundation program director for Philadelphia. "On the Table builds on these efforts by giving Philly residents of all backgrounds the chance to weigh in about their concerns. We have much to share with other cities, and this national experiment provides a connective network to do just that."
Food may be a secondary focus, but it's still an important part of the package, since it gives people something in common. At the Nationalities Service Center, an immigrant and refugee welcoming organization, tacos and hummus brought together newcomers from Colombia with refugees from Sudan, Syria, and Pakistan. Speaking a mix of Spanish, Arabic, and Urdu, about a dozen people talked via interpreters about navigating the city as new arrivals. From finding work and learning English to feeling safe and finding places for their kids to play, common themes echoed across the group's language barriers.
"When people are eating a meal with each other, there's something about it that brings people together," said Danielle Bossert, the resettlement manager at NSC. Serving halal food in particular was essential to including the organization's Muslim clients.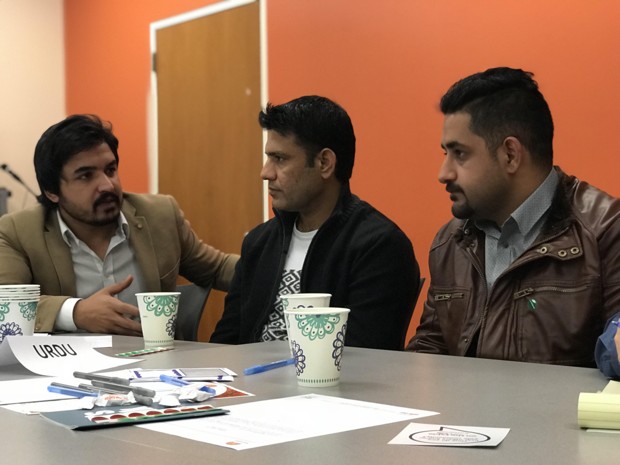 NSC knows well how food can help welcome refugees, as they provide culturally appropriate hot meals for new arrivals. After Bossert once bungled a Pakistani recipe, the organization now has its own former clients, volunteers, and community members make the dishes. The fare at On the Table, which also included stuffed grape leaves and pickled vegetables, came from Amina Aliako, who arrived as a Syrian refugee from Turkey in January 2017. She now runs her own day-cart at Reading Terminal Market, which was recently featured in the Philadelphia Inquirer.
Bossert says that the Knight event gave her another sense of what their clients want, and what other things they can deliver to build a sense of belonging. "It solidified our relationship with our refugee clients," she said. "It made them feel as though they were heard, that we're listening with them. I also realized that they're so passionate about getting to know their neighbors. The people who attended this event became really excited about becoming mentors for those who are newly arriving, showing them where to eat, where their kids can play, and where they can pray."
Around noon, I hopped over to Reading Terminal Market, the city's much-beloved public market, to catch a discussion about building more equitable public spaces with Anuj Gupta, the market's general manager and a steering committee member for On the Table. Among the attendees: a park planner, a librarian, and a musician, and others who work on programming places. The group talked about good places to eat and to see live local music (among the recommendations: Eri-Ethiopian restaurant Dahlak Paradise in West Philly and Tex-Mex cantina El Camino Real near 2nd and Girard), what's been popular at City Hall's Dilworth Plaza (spraygrounds are in, ice rinks are meh), and how libraries can lure patrons in the digital era.
After hearing how the city's libraries were rebranding their branches as "neighborhood libraries" to emphasize their role as local amenities, Gupta relayed a tip, potato chip in hand. "You've got to let people know what you value upfront to clear any misconception," he told the table. "I had to fight the phrase 'food hall' so hard because that's not what we're about. We're not some high-end food court—we're a public market."
Race and class were a recurring theme: The participants talked about why Philadelphia put so much emphasis on its failed effort to attract Amazon's HQ2 and how the recent racial incident in a Philly Starbucks demonstrated how much work the city has to do on inclusion. The table also had a serious discussion about how the challenges to public transit and affordable housing can even make "free" spaces more difficult to access.
By dinnertime, my appetite for both free food and civic innovation was beginning to flag, but I made it to the historic Thomas Eakins House, home of Mural Arts Philadelphia, where the broader social aims of the arts organization behind the city's murals came into focus over some pasta. The discussion covered topics ranging from public safety and education to economic inequality and the opioid crisis.
"It can feel as though those issues seem so distant from what we could actually impact as a group," said Jane Golden, the executive director of Mural Arts. "People talk about these big intractable issues, then weave through that to things that are more tangible—thinking about what you can actually do versus just being overwhelmed by what's wrong."
Among the attendees was Rosalind Pichardo, who runs the homicide victims relief organization Operation Save Our City. She works at the arts organization's branch in Kensington—a neighborhood that the New York Times recently called "the Walmart of heroin"—and mentioned how the need for "calm and healing" went beyond the opioid crisis.
"The people we're working with are on the ground and seeing things that other people aren't," said Golden. The dinner discussion they had, she says, will inform the work Mural Arts already has going forward with the Philadelphia Foundation, as it celebrates the nonprofit's centennial with a region-wide mural project that aims to represent the city's values and communities. "How do we define who we are as a city?" she asked. "We all learn from each other, so it's an appeal to our better angels to think about how to create a discourse that leads to healthier city."