Democrats swept back control of the U.S. House this month due to dominance in suburban districts. But in Mississippi's U.S. Senate runoff Tuesday, Republicans have two big advantages. Not only is Mississippi one of the country's least suburban states, it's also sharply divided by one of the few factors that matter more in American politics than density: race.
Mississippi is marked by a racial divide between its white majority and its African-American minority—bigger than any other state—that shows up in its politics. Just like in the rest of the country, black voters in Mississippi are overwhelmingly Democratic. But unlike many other states, white Mississippians don't just lean Republican—they're overwhelmingly conservative. The New York Times estimated that the 2012 Mississippi electorate was 60 percent white and 38 percent black. But voting there is highly correlated with race—Democrat Barack Obama won an estimated 93 percent of African Americans and 13 percent of whites in 2012. Nationwide, Obama got around 95 percent of black voters but 41 percent of white voters. The racial divide has been similarly stark in other recent presidential elections, such as 2004.
Mississippi's large African-American population is also unusually rural. A larger percentage of its black residents live in very low-density areas than in any other state in the country: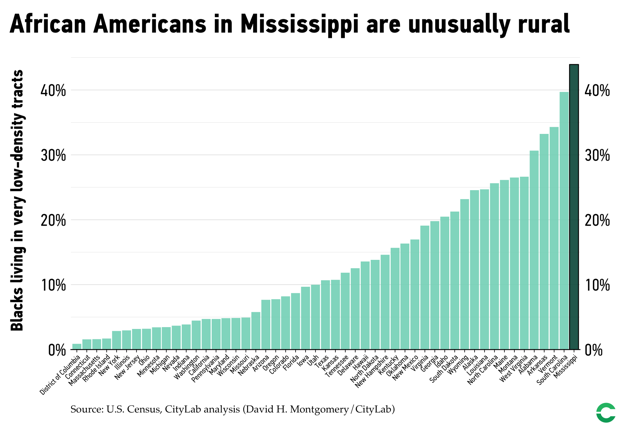 But Mississippi's whites are unusually rural, too, and outnumber blacks two-to-one in rural Mississippi. Mississippi's towns and cities, in contrast, have nearly equal numbers of black and white residents.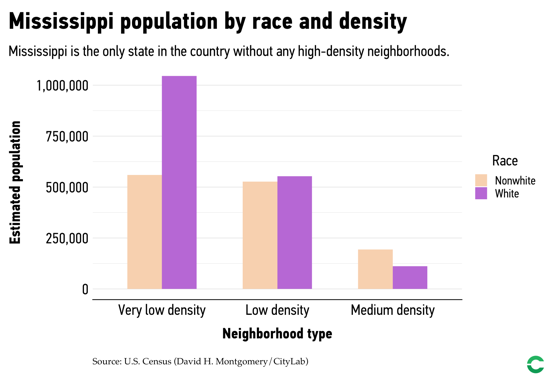 Mississippi's unusually rigid racial divide has helped make it one of the most politically predictable states in the Union—it has very few surprises, and lots of elections where the Democrat gets somewhere between 39 and 44 percent of the total vote.
If that's going to change Tuesday, when Democrat Mike Espy faces Republican Cindy Hyde-Smith, then Democrats will need to find new votes somewhere. This month's election showed even Southern suburban voters breaking against Republicans. Unfortunately for Espy, Mississippi is one of the worst states in the country to find the white, college-educated suburban voters who fueled the "blue wave" this year.
Lots of country, relatively few suburbs
Mississippi is one of the most rural states in the country. More than 53 percent of its population lives in very low-density neighborhoods, a higher percentage than all but Vermont, Maine, and West Virginia. And those states are all more urban than Mississippi, the only state in the country without a single high-density neighborhood.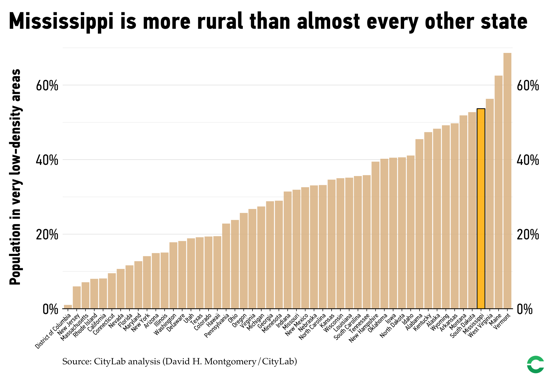 Overall, around 46 percent of Mississippi's population lives in suburban-style neighborhoods. That might seem like a lot, but it's actually among the lowest levels of any state. Only eight states have smaller percentages of residents living in suburban-style neighborhoods than Mississippi. And Mississippi's suburban neighborhoods are disproportionately low-density.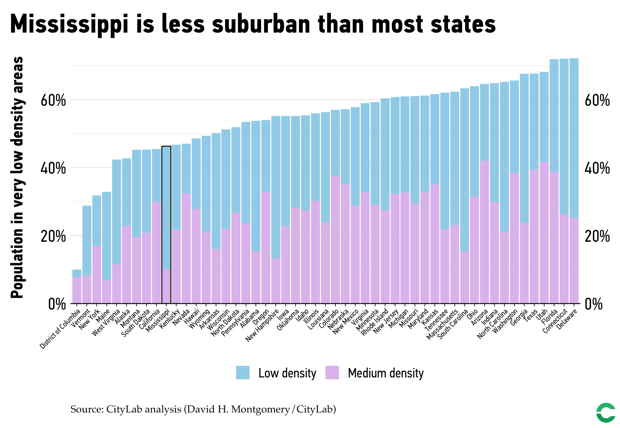 The particular demographic group that pollsters identified as the heart of the suburban shift toward Democrats in 2018 is white, college-educated suburban women. Here again, the demographics gives us reason to doubt that the same blue wave that swept across much of the rest of the country will also crest in Mississippi Tuesday. Just 9.2 percent of Mississippians 25 years or older are white suburban women with college degrees—the second-lowest rate in the country.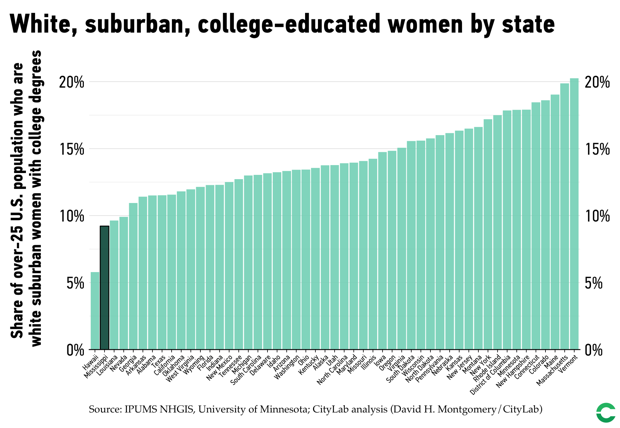 None of this is to say that Espy can't win Tuesday's runoff election over Hyde-Smith. After all, Democrats won a Senate race in similarly inhospitable territory last year in neighboring Alabama. But the specifics of the candidates aside, Mississippi is singularly tough territory for the Democratic coalition of 2018. It's more rural, less suburban, and has fewer white college-educated women than almost every state (including Alabama). Turning out this coalition in Tuesday's election will help Espy, but if he wants to get over the top, he'll need to find votes elsewhere, too.