Soviet-era industrial design is not usually remembered for fun, bold objects—but that was not for a lack of design talent. For the last three decades of the Soviet Union's existence, the All-Union Scientific Research Institute of Technical Aesthetics (VNIITE for short) helped exceptional designers develop exceptional products, from portable radios to town centers. Many of its best ideas, however, died before reaching the assembly line.
Formed in 1962 by Yuri Soloviev, a talented and well-connected designer, VNIITE had 10 branches across the USSR, including a main office in Moscow, plus 400 design bureaus linked to various nationalized industries.
VNIITE trained and developed designers, created prototypes, staged exhibits, and collaborated with similar design institutes from other countries. Soloviev successfully lobbied for VNIITE's membership with the International Council of Societies of Industrial Design (ICSID) and even served as the council's vice president from 1969 to 1973. Through the ICSID, he met superstar industrial designer Raymond Loewy and eventually courted him for a partnership between his office and the USSR, developing 10 products chosen by the Soviet Ministry of Foreign Trade. Only saw one—a refrigerator—ever hit the the market.
Loewy's experience exemplified much of the frustrations VNIITE designers had with Soviet industries—they created objects that were "developed in a vacuum and ultimately foundered amid the web of bureaucratic procedures," wrote Juliet Kinchin and Alexandra Sankova in a 2016 essay for MoMA.
As the Soviet Union fell, so did VNIITE, which was left with only its Moscow office after 1990. "It is very difficult to find information about the activities of VNIITE branches in the former republics," Sankova, a curator for the Moscow Design Museum, told CityLab. "Even the materials that were stored in the Design Center on Tverskaya Street in Moscow were loaded onto trucks and taken to a dump site." She blames the loss on a general desire in the '90s to get rid of anything connected to the USSR, and occasional building raids. In 2014, VNIITE was absorbed by the Moscow Technological University. The type of research VNIITE once worked on is now done by a state-owned company, Rostec.
But the story of the "Vniitians"—as VNIITE's alumni are affectionately known—is now being pieced back together, mostly thanks to Sankova. She has spent years tracking down former VNIITE members and acquiring their personal archives. As word of her research spread, the museum was able to acquire more pieces from different regions.
The Moscow Design Museum's 2013 debut show, Soviet Design: 1950-1980s and their exhibition at the 2016 London Design Biennale has presented VNIITE's work and ambitions to a new generation of designers and cultural historians, many of whom don't have direct experience or memories of the Soviet Union. Now, Unit Editions has published VNIITE: Discovering Utopia: Lost Archives of Soviet Design, presenting the museum's work for the biennale in book form. From the new book, CityLab has picked five projects that best summarize VNIITE's ideas—and limitations—in the urban realm:
A next-generation taxi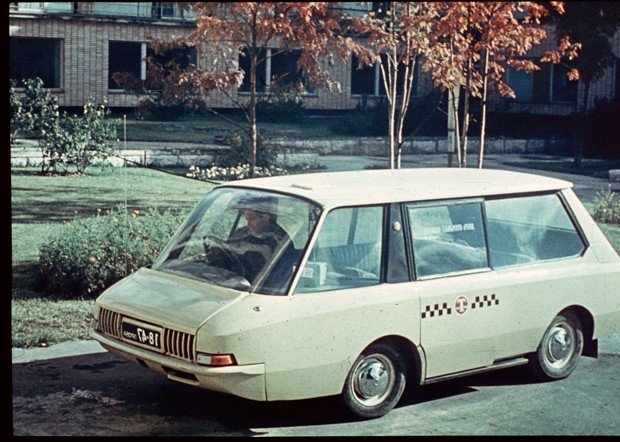 In 1962, the USSR Council of Ministers passed a resolution asking for a purpose-built taxi vehicle. In response VNIITE developed a design for this "Next-Generation Taxi" (NGT) two years later. The design team determined that the vehicle should function more like a small bus than a typical car, so it came with sliding passenger doors and a separate compartment for the driver. Only two prototypes of this boxy proto-minivan were built; one operated on the streets of Moscow for a month. But some of its features made its way to later cab and minivan designs, such as Giorgetto Giugiaro's concept for a New York City taxi in 1976 and Nissan's current "Taxi of Tomorrow."
High-speed tramway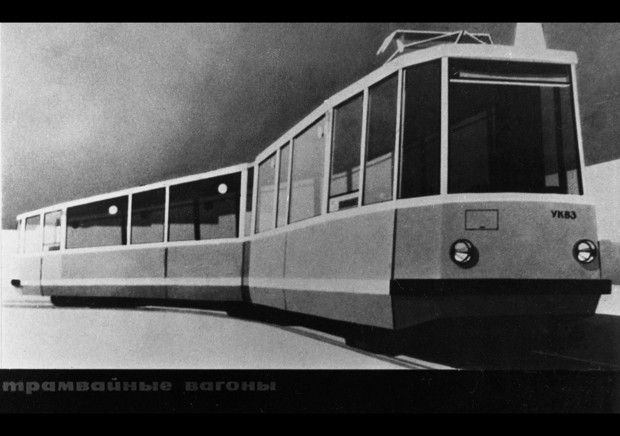 The Urals branch of VNIITE collaborated with the Ust-Katav Wagon-Building plant in 1976 to develop a four-axle, all-metal streetcar for urban, suburban, and intercity travel. As described in Discovering Utopia, the unrealized concept's uniqueness was in its layout. Entry and exit points in the cars were divided into compartments for short and long-distance passengers, and views were improved from previous car models with wider, higher windows. Improved heating and ventilation systems would have allowed trains to run in extreme heat and cold, and mechanical equipment was moved to the roof of the streetcars in order to reduce the need for utility lines and general maintenance needs.
VTOMAR waste management program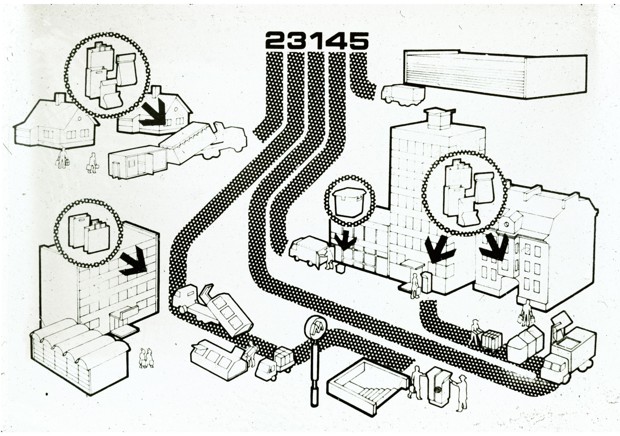 In the 1970s, Soviet leadership became concerned with environmental pollution created by household waste. So VNIITE's Leningrad branch came up with "Secondary Material Resources" (VTOMAR), a system for collecting and reusing municipal recyclables. Between 1979 and 1985, a team of industrial designers developed equipment to collect and transport materials, as well as worker uniforms, color-coded graphics, and marketing elements to encourage recycling. The system was never realized.
Interdesign-80 project seminar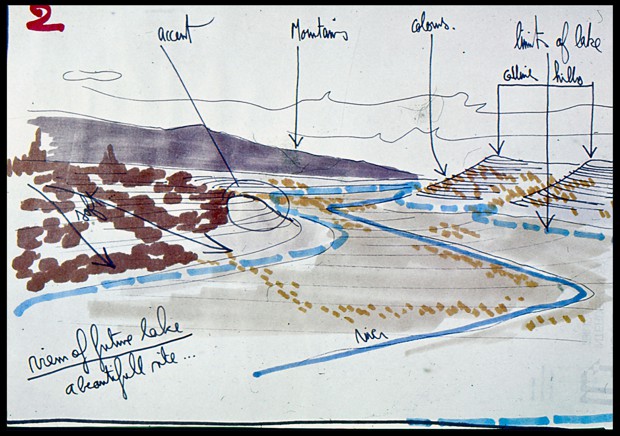 Organized by the International Council of Societies of Industrial Design in Tbilisi in 1980, the project aimed to create a new master-planned community in the Georgian city. Designed from the top down in the early days of integrated urban planning, it drew from the ideas of designers, architects, and graphic artists from 14 countries along with VNIITE as well as the USSR's architects' and artists' unions. Although the project was never built, Sankova tracked down some of the VNIITE designers for the project who said that those ideas influenced their more recent work designing a contemporary urban district in Tbilisi.
Municipal installations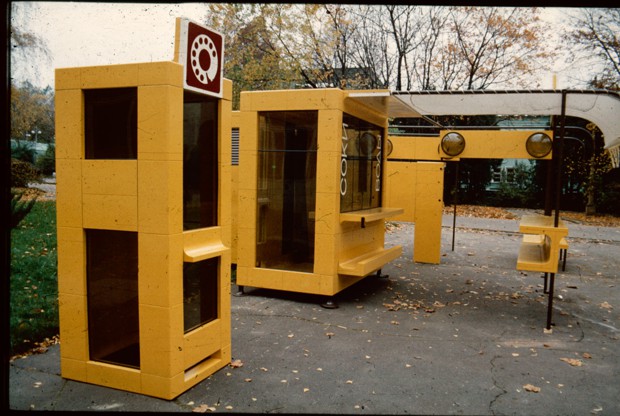 In 1985, a group of VNIITE industrial designers developed a series of municipal installations for an urban planning project in Digomi-7, a residential neighborhood in Tbilisi. Yellow modular units made out of cheap, vandal-proof materials were to be introduced to the area as street installations—phone booths, kiosks, benches, even sandboxes. According to Sankova, the project was never realized beyond prototypes for a photo-op. It was the first time VNIITE architects and designers collaborated on a project.