Illuminated by floor-recessed lighting, the bottom half of a 1,500 square-foot subterranean room is suffused in pink, slow-curling fog. By one wall is a life-sized plaster-cast statue of a bare-chested woman, head concealed in cloth, holding a naked infant upside-down. A gaunt female model with an alabaster face saunters languidly through the space, like a mute witness to some macabre ritual. The 50 or so patrons, who each paid a $30 entrance fee, tentatively explore the room's perimeter, wading through the puffy fuchsia tide, when a baritone voice registers through speakers:
"Ladies and gentlemen, you are about to be buried alive."
Following a New Year's Eve-style countdown, a huge net tethered to the ceiling releases 120,000 three-inch plastic iridescent balls, eliciting instantaneous glee from the crowd. They now occupy the largest, most bizarre, adult ball pit playpen in the world.
The "wizard" behind the curtain is 63 year-old Bill Tonnesen, who serves as MC at the Lavatory, a risqué, if not outright scatological, art exhibition housed in a 16,000 square-foot, two-story commercial building just north of downtown Phoenix. Prior to the Lavatory's November opening, the building was gutted and renovated. Some 300 tons of dirt were removed to accommodate the show, which, in addition to the "pit," includes other themed rooms (one requires a non-disclosure agreement to enter). Also featured are two claymation cyclorama booths with professional portrait quality lighting conditions; a claustrophobic ten-by-eight foot room filled floor-to-ceiling with 18 functioning toilets; and many, many pieces of artwork by Tonnesen himself.
"A traditional experience at a gallery or museum is to look at a painting on a wall," the artist told CityLab. "We're working on a mechanism to make that painting fall if you get too close. My goal is to confuse."
A landscape architect by profession, Tonnesen is an ardent modern art enthusiast, Andy Warhol devotee, and a prolific—often provocative—artist in his own right. He's overseen controversial development projects in Tempe, including the transformation of several properties into large-scale public art installations. Citing the First Amendment as a mechanism that relieves him of requiring permission to display public art, he's often been at odds with what he calls "bureaucratic overreach."
Tonnesen is, by most accounts, an eccentric persona, and the Lavatory is something of his pièce de résistance, the odd fruit of immense personal labor and capital. Yet as unconventional as he is, Tonnesen's foray into producing his "immersive" vision is inspired by a recent wave of similar, though typically more cheery, art exhibitions that has spread across the country and around the world.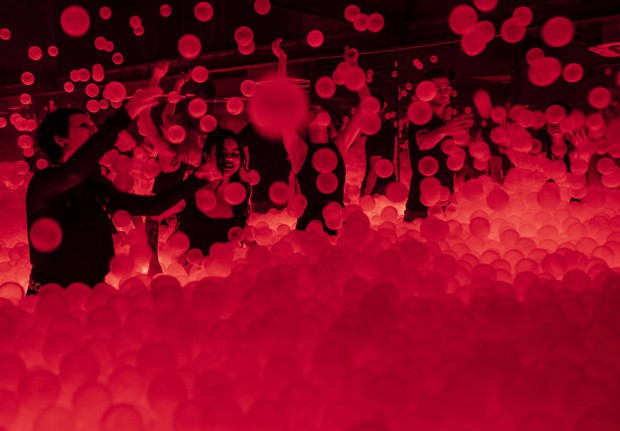 Generally characterized by large-scale installations with strong multi-sensory and interactive aspects, the immersive art phenomenon is recognizable in any number of fantastical—often food-oriented—iterations appearing on the urban landscape. The Museum of Ice Cream, for instance, opened in San Francisco in 2016 and now operates in New York, Los Angeles, and Miami. Like some real-life Willy Wonka production facility, it claims on its website to unite "people of all backgrounds in the name of ice cream," in a "realm where anything is possible, from unicorns to cookie carousels to swimming pools of rainbow sprinkles." Similarly, Happy Place is described as a "massive pop-up experience filled with larger than life installations, multi-sensory immersive rooms, and dozens of moments curated to Capture Your Happy." The exhibit opened in Los Angeles last year, moved to Chicago for the summer and is now in Toronto. Other like-minded projects include Candytopia, the Museum of Pizza; and 29 Rooms, to name just a few.
***
Perhaps none other has been as popular or as profitable as Meow Wolf, which started as an artist collective in Santa Fe in 2008 before its first permanent exhibition space opened in 2015. Partly inspired by an interactive children's science museum in Albuquerque, the complex is housed in some 30,000-square-foot former bowling alley that was purchased and renovated with a $3.5 million dollar investment from Game of Thrones author George R. R. Martin. The centerpiece here is the House of Eternal Return, a permanent installation that features the work of some 135 artists. The hallucinatory, free-range, Alice-in-Wonderland experience of the installation debuted to intense fanfare and rave reviews.
What the creators of Meow Wolf built stands in stark contrast to the city's existing art establishment. "In our early days, we were looking to build community around forms of creative expression that didn't have an established outlet in Santa Fe," said Meow Wolf co-founder Sean DiIanni, "And we've connected diverse audiences to the work of visionary artists. Hopefully, we get people… to think a little differently and to examine their assumptions about art, space, and experience."
A once anarchistic collective of millennial artists, Meow Wolf is now a multi-million dollar corporation. In fact, a feature film on Meow Wolf is now set to play in theaters across the country, a testament to not only its success but to the cultural flashpoint it seems to represent. With plans to open in Denver and Las Vegas, the company has generated enormous revenues and has proven a boon to the local economy. In early 2017, the state of New Mexico assessed that Meow Wolf would generate a $358 million economic impact on the state over the next decade. "And this was prior to the announcement of two new permanent locations in major U.S. metros, along with other developments that would surely make for a far larger number today," said Meow Wolf marketing director John Feins.
***
If the current immersive art exhibit phenomenon is relatively young, it's been a long time in the making, with no other current influence more apparent than Burning Man, the massive counter-culture arts festival that has taken place in Nevada's Black Rock Desert since 1986. Tonnesen himself has produced large-scale, experimental art projects on numerous occasions for the event. And, not far from his Lavatory in Phoenix, another creative entrepreneur opened an enormous exhibit devoted entirely to Burning Man-inspired art cars called the Where?House. With its signature whimsy-writ-large sensibilities, the annual festival has played a consequential role in stretching the possibilities for art.
But Burning Man hardly obscures the influence stemming from a rich history of "pop-up" exhibitions that have been with Western Europe and the U.S. since the 19th century—think Joseph Paxton's iconic Crystal Palace for the 1851 Great Exposition in London; or even some carnival and sideshow traditions that trace to ancient times. The trend also borrows from a variety of art movements, including the Surrealists who "… developed the idiom of immersion by creating experiences of art intended to transport you to a different state," said Martha Schwendener, New York Times art critic and professor of art history at NYU. Established in 1924, the Surrealist Movement had been galvanized by Dadaist gestures of artistic anarchy like Marcel Duchamp's 1917 "The Fountain," a simple porcelain urinal that shattered the conventional perception of art at the time. (Tonnesen's Lavatory appears to be a gushing homage to the iconic work.)
Schwendener also points to influences from the experimental 1960s to present day, which saw a rise in both performance and participatory art. They range from Cuban installation and performance artist Tanya Bruguera; Allan Kaprow, a painter and performance artist most known for his "Happenings," which featured "themed" rooms; to contemporary Japanese artist Yayoi Kusama and her mirrored "infinity rooms." Recent examples that "draw from earlier art or pose with moderate success as art-themed phenomena include the Bosch Experience in Berlin and the Rain Room in New York City," she added. "I see some of this as a natural evolution from the Cirque du Soleil and Blue Man group franchises, which have created a market for the sheer spectacle of performance art," said Schwendener. "'Immersive' has become a buzzword that even museums are using a lot now."
***
Inspired by a 2016 visit to Meow Wolf, national art critic for artnet News Ben Davis coined the term "Big Fun Art" in a piece that keenly predicted much of the current craze: "This kind of art's influence is likely going to spread quickly from the margins, putting pressures on museums to embrace it or define themselves against it. You'll hear MBA-style aesthetic rhetoric more and more." Also, that the trend is "… what you get when art self-consciously models itself off of start-up culture, with its rhetoric of scalable growth."
In another related piece, Davis addressed concerns stemming from this growth, cautiously assuring us that Big Fun Art does not necessarily equate to demise of culture: 
Everyone likes a good milkshake once in a while. Milkshakes bring people together. And if you were taking your 13-year-old niece or nephew to something, you might suck it up and pay the $38 for the Museum of Ice Cream rather than the $25 for the Museum of Modern Art. But if your only plan to feed your nephew is to give him milkshakes, you are in trouble.
Bill Tonnesen knows he's riding a wave created by the Big Fun Art phenomenon, but insists he is differentiating his efforts from the others he calls "selfie factories."
"When first introduced to installations like the Museum of Ice Cream and Happy Place, I felt that their common themes of color and candy looked like Barbie-land. I wanted to go in the opposite direction," said the artist.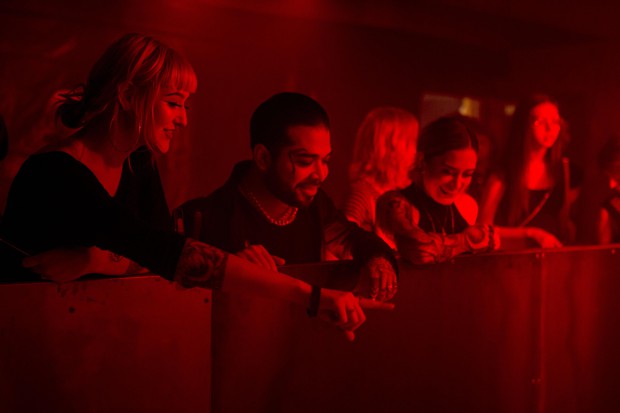 In the meantime, Tonnesen confesses that the ad agency he's retained has advised him to change the name of the Lavatory and "maybe scale back" on some of the risqué elements. But he's not so sure.
"The place is really, really clean," he boasted, before describing one of the more extravagant of his overhead investments, a $27,000 customized industrial vacuum and washing system: the mechanism includes large tubes that suck the plastic balls from the floor and send them to one of two enormous cleaning machines before they're delivered to the lofty perch above the pit, where they'll wait until the next countdown.
Moreover, Tonnesen is confident the investment he's made in the name of his unusual avant garde vision is a safe bet.
"It's a packed house every night," he said.