Well, that escalated quickly.
On Monday, September 24, the Philadelphia Flyers revealed its new costumed mascot, a 7-foot tall orange hellion named Gritty. Early reviews threatened to be as inauspicious as those that greeted the weird snake-with-legs mascot that Philadelphia's soccer team recently debuted. What was this fuzzy eldritch horror, whose googly eyes and maniacal grin seemed engineered to unnerve rather than delight young NHL fans?  
Critics from across America immediately showered hate on the carrot-colored creature. "Flyers' new mascot is met with universal ridicule," blared headlines. But—like the president he would soon be compared to—Gritty found a way to turn on his tormenters and forge their ridicule into a mighty weapon. After a barrage of negative national media coverage, the city rallied around him. If there's one thing that unites Philadelphians, it's a good war with everyone else in the country.
Given wings by social media, Gritty became ubiquitous—and, because this is 2018, extremely politicized. John Oliver made Gritty a stand-in for Supreme Court nominee Brett Kavanaugh, explaining that, in the comic's opinion, the mascot was also "something hostile, consistently unsettling, temperamentally unpleasant, and that screams, 'Who the fuck allowed this to happen?'"
Conan interviews the man inside the Gritty costume. https://t.co/w771hUJzkR #CONAN #Flyers pic.twitter.com/D7lGOdvphh

— Team Coco (@TeamCoco) October 4, 2018
Sensing the perfect vehicle for its unruly passions, within the week the Resistance had adopted Gritty's unkempt visage; many a protester who rallied against Donald Trump's visit to Philadelphia on October 2 carried Gritty-themed banners and signs.
Gritty signs spotted so far pic.twitter.com/PIBm54pvW9

— Claire Sasko (@ClaireSasko) October 2, 2018
It isn't every day that a corporation-created carpet monster is celebrated by communists. But left-wing groups in the city and prominent radical publications ("Gritty is a worker," declared Jacobin) seem to have decided that the Flyer's mascot is a dyed-in-the-wool Bolshevik. Orange is the new red.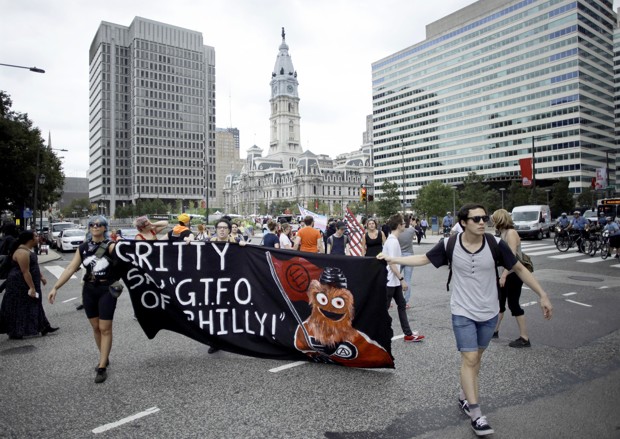 This was surely not what the Flyers had in mind when they asked the man behind the Phillie Phanatic for assistance with mascot ideas. But in truth, the left's love for Gritty is but a subset of the larger civic adulation that the new Flyers mascot earned (eventually). It's a complicated kind of feeling—equal measures baffled horror and defensive attachment. And it reflects both Philadelphia's churlish character and the angry era into which Gritty has been unleashed.
This city's self-image is, for better and for worse, wrapped up in its love of repulsing and outraging our fellow Americans (and the BBC). And nowhere can that be seen more clearly than in its battery-hurling, horse-punching sports culture. (See also: Eagles' center Jason Kelce's proud assertion that "No Ones Likes Us, We Don't Care.") The feelings of disquiet, disgust, and begrudging affection engendered by Gritty are all longtime Philadelphia hallmarks.
They are also a standard emotional response to the contemporary news cycle, where weird Twitter memes are the only pleasures to be reaped from an unremitting harvest of sorrow. And Gritty is nothing if not the ultimate weird Twitter meme, a ghastly empty-eyed Muppet with a Delco beard who looks (and behaves) like an internet outrage come to wrathful, furry life.
It's true that the pro sports franchises that create these mascots are voracious corporate entities that often act in less-than-civic-minded fashion. But the mass sentiment and enthusiasm these teams rile up are real, and one of the purest manifestations of social cohesion you can imagine. Bowling alone?  Nah, what about a column of hundreds of fans marching through the downtown streets and making the skyscrapers echo with chants of "Fuck Tom Brady"?
Fans always shape the teams, and their mystique, in a way that is outside the control of the owners or the players. It no surprise that Gritty became a Bolshie in this overwhelmingly Democratic city, where vibrant left-wing movements and a storied radical protest tradition co-exist with stark inequalities and a dark history of racial violence. (And, yes, of course there's already a petition going to have Gritty replace a mural of Philly's Trumpian 1970s mayor, Frank Rizzo.)
But the NHL is hardly known as a bastion of progressive sentiment, and there are probably plenty of conservative Flyers fans who are not enthused about the radicalization of the team's mascot. It's probably only a matter of time until his image is appropriated by pro-Trump factions as well.
Perhaps that's appropriate; Gritty should transcend ideology. In today's hyper-politicized climate, where everything is culture war, can this orange beastie be one aspect of American life that can loved, feared, and consumed by all? Can Gritty be an obscene fuzz-beast horror for everyone?
The future is uncertain; the war for Gritty's soul has just begun. As the man with the fresh Gritty tattoo says: Chaos reigns.