There are a lot of things that Richard Devore likes about the 250-square-foot tiny home he's lived since early last year. He loves the wood cabinets in his house, the sprawling oak trees providing shade outside, the goats roaming in the pasture nearby. But most of all, he loves "the fact that I'm supposed to be here," says Devore, who was homeless for the 13 years before he moved in. "I can relax and belong here."
Devore lives at Community First! Village, a 27-acre master planned community just outside Austin, Texas, where more than 200 people who were once chronically homeless live in tiny homes and RVs. Everyone who lives at Community First! pays rent, ranging from $225 to $430 per month; many residents are employed on-site.
"Before I moved here, I honestly didn't think my life would have anything other than being a homeless drug addict," Devore says. He'd lived in an apartment for two brief stints during the years he was homeless and once held a steady job. But old habits were hard to break. "I hung out with the same people. I didn't know any of my neighbors. I was living the same life, just with shelter," he says. "Eventually I decided I wanted to get high more than I wanted to pay rent. If nothing changes in someone's life, when the money runs out, they're going right back to where they were."
This is the idea that fuels Community First! Village. "They have a saying upstairs," Devore says. "Housing will never cure homelessness, but community will."
That's a variation on the "housing first" model of addressing homelessness, which focuses on getting people into permanent, safe housing before dealing other issues like unemployment or addiction. "Community first" takes that idea a step further, with a singular focus on providing housing within community. While there are several tiny-home villages built for the formerly homeless across the United States, Austin's Community First! Village is distinct in its communal focus.
It's also the largest such community—and it's about to double in size. In October, Community First! broke ground on a 24-acre expansion, which will add 110 RV sites and 200 micro-homes, alongside a permanent 20,000-square-foot health facility. That would bring the village's total population to 480 people—roughly 40 percent of the estimated 1,200 chronically homeless people living in Austin, according to the Ending Community Homelessness Coalition—and make it considerably larger than any other tiny-home community for the homeless.
Community First! Village is the brainchild of founder Alan Graham, a real estate developer who started feeding people out of a pickup truck with four friends from Austin's St. John Neumann Catholic Church two decades ago. They called it Mobile Loaves & Fishes and stocked the truck with fresh food and clean clothes. In 2003, Graham started spending nights out on the streets, deepening the relationships he'd formed through the food truck. "We started asking: What is it that you desire?" he says. "Community was what emerged."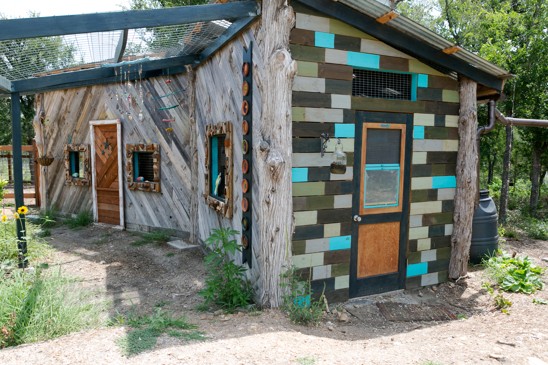 He looked at RV parks and campgrounds as inspiration for the kind of community he wanted to build, based on his experiences taking cross-country road trips with his wife and their five children. Often, they'd pull into RV parks and would inevitably end up grilling burgers with their new neighbors. "There was this inherent sense of community," he says. "I think now it's because of the small spaces."
For seven years, Graham searched for a plot of land in Austin to build his vision of an RV park for the chronically homeless. Perhaps not surprisingly, that idea triggered fierce not-in-my-backyard opposition from neighborhood groups. In 2008, Austin's City Council voted unanimously to grant Community First! a long-term ground lease on 17 acres of city-owned land. But neighborhood resistance was intense: After a community meeting "exploded into Armageddon," Graham says, he gave up on building within the city, and, in 2014, purchased 27 acres just outside city limits in Travis County. One year later, he started moving people into RVs and tiny homes.
Located in a sparsely populated area about 10 miles northeast of downtown Austin, the village today bustles with activity. There's an outdoor movie theater, donated by Alamo Drafthouse and the site of Friday evening screenings, free and open to the public. Beyond the 200 full-time residents, the little town hosts volunteers from church groups, visitors touring the development or attending art classes, and AirBnb guests staying in an assortment of stylishly designed tiny homes and an Airstream trailer that are all listed as vacation rentals—part of the village's mission to bring more people into regular contact and conversation with the homeless.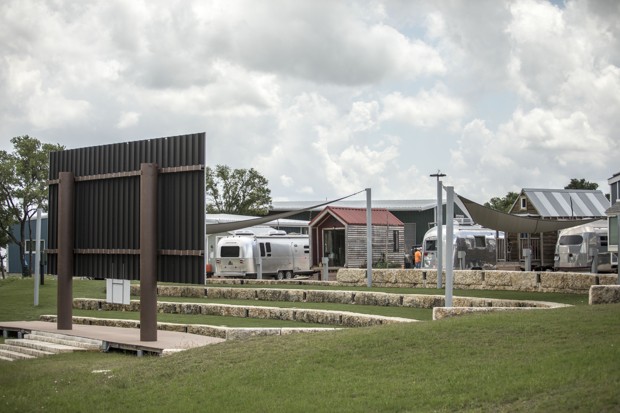 Like any small town, there's a lot to do here: You can get your hair cut at the hair salon, take your dog to the dog park, shop at the Community Market, help out at the garden, cook in one of the communal kitchens. The village's design has been optimized for socialization: There are no backyards, only front porches, adorned with potted plants, patio furniture, and the occasional bike. Without plumbing or running water, the tiny homes are grouped around shared bathroom, shower, and laundry facilities. Residents regularly gather for neighborhood dinners in one of four outdoor kitchens, open 24/7.
While the village is operated by a faith-based nonprofit and has a distinctly Christian vibe—45 people live on-site as missionaries—residents of all faiths are welcome, including none. Narrow streets named Grace & Mercy and Goodness thread through colorful clusters of tiny homes, a dozen different designs made by local architects and funded by private donors. Maintenance of these shared spaces is one source of employment for residents, who can earn anywhere from $350 to $900 a month to clean the kitchens and bathrooms and contribute to general upkeep around the village. Some residents make jewelry or pottery in the art studio to sell in the Community Market; there's also a woodworking studio and blacksmithing shop. Community First! Car Care employs half a dozen people who will change your oil or rotate your tires while you wait. Graham says that the community distributed nearly a million dollars of "dignified income" to residents in 2017 and 2018.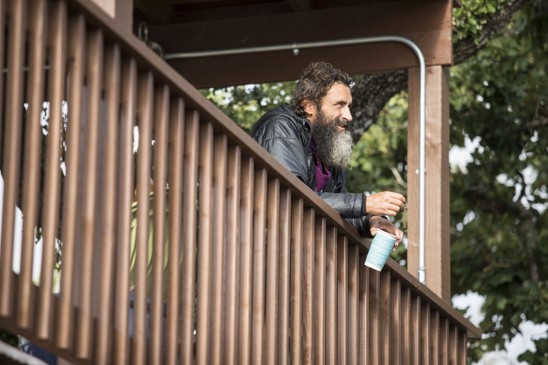 But many residents, Graham admits, aren't capable of holding traditional nine-to-five jobs—"they're going to have to be subsidized for life," he says. "The question becomes where does that subsidy come from? Does it come from the federal government, or does that subsidy come from the community?" It's a philosophical question as much as an economic one, but Graham believes that responsibility should fall to the community.
As such, there's no particular aim to transition or "graduate" residents to traditional housing or employment. Tracy Krause moved to Community First! in 2017 after being homeless for 25 years. She sobered up, enrolled in Austin Community College, and got a job cleaning two dental clinics in Austin. "I'm doing well enough that I could move somewhere else," she says. "But I will live here for the rest of my life. I want to never forget where I came from."
The number-one rule is that you have to pay rent, which covers roughly 40 percent of the village's $5 million operating budget. Miss a payment, and you will be asked to leave. Graham says that doesn't happen much—the retention rate at Community First! is 86 percent. When it does happen, substance abuse is usually to blame. "You can't make drugs and alcohol your preference," Graham says. "This isn't the right place for you to be."
Which isn't to say that everyone who lives at Community First! is sober—many residents are what Graham calls "functioning addicts." The village offers varying levels of support for those who want to get clean. A free clinic staffed and operated by Austin Recovery, a nonprofit that specializes in addiction recovery and treatment, offers intensive outpatient programs for residents. There are regular Alcoholics Anonymous and Narcotics Anonymous meetings on-site, and every one of the community's 50 full-time employees is trained in mental health first aid.
Such services are essential to the community's success, says Dirk Early, a professor of economics at Southwestern University who studies homelessness. "In general, the people who are homeless for many, many years, if you really dig down to what's going on in their world, there's almost always some major mental health issues and/or addiction issues," Early says. Others who are "transitionally homeless"—because they lost a job or became sick—"they need a step up for a bit until they get back on their feet, and then they're off and running again," he says. But for the chronically homeless, "the tricky part is: How do you stabilize their lives regardless of their housing situation?"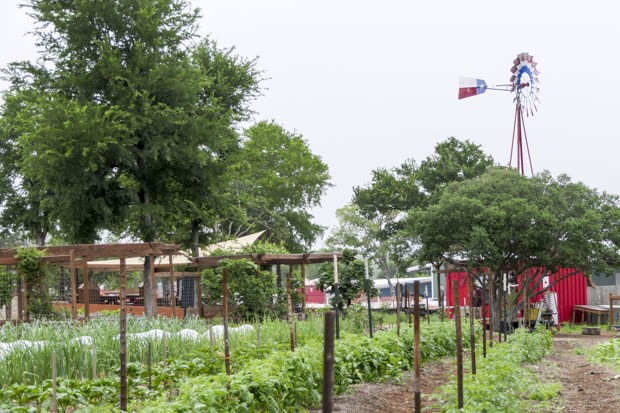 To Graham, that's where the village's focus on socialization and shared space comes in. "None of us can do anything around here without being caught," he says. "There's a level of human accountability to that."
When Devore first arrived, he mostly kept to himself—like many new residents, years of living on the streets had made him mistrustful of others. Today, he manages the community greenhouse, works at the farmers' market every other Saturday—produce from the garden and eggs from the chicken coops are free to residents—and serves on the eight-member community council, representing the 25 residents who live in his district. He goes door-to-door every couple of weeks to make sure he's connecting with everyone in his neighborhood. "Between being on the council and doing the farmers' market, I'm one of the people who interacts with the most number of people here," he says. "I feel like that really helps me stay stable."
Among the village's newer full-time residents is founder Graham and his wife: Last year, they sold their home in West Austin and moved into a 399-square-foot RV in the village. "Our hope is that not only do people come to a different understanding of how we can mitigate homelessness," he says, "but how do we change our own lives from being so isolated and disconnected from each other?"