The south Tel Aviv neighborhood of Neve Shaanan is known for many things: African migrants and asylum seekers; furniture stores, the notorious, cavernous Central Bus Station; prostitution and drugs. In Israel's sleek "Start-Up City," the neighborhood is fixed in the local consciousness as an undesirable destination, a contrast to the wealthy neighborhoods in the center and north of town.
Israel's left-wing activists and NGOs have, since the beginning of the migrant influx a decade ago, seen the neighborhood as a testing ground for liberal values, providing shelter for those fleeing war and oppression in countries like Sudan and Eritrea. Thus, despite the relative poverty of the area, there are determined sprouts of urban renewal: In August of last year, the Tel Aviv municipality helped establish a tech accelerator, co-working space, and training center for the neighborhood, The Platform.
This urban entrepreneurship hub sits in a renovated two-floor building that used to serve as the offices of the old central bus station. Just in front, where the buses once departed, the city built a new park for local residents with patches of green, basketball courts, and children's recreational equipment. On a recent midday visit, the neighborhood's competing impulses were evident: homeless men sprawled on the grass, drug addicts trying to get a fix under the slides, while all around them people went about their workday.

"We have all the issues here: gentrification, crowding, poverty, drugs, migration, everything," said Shana Krakowski, The Platform's director, as we toured the nearby streets. Highlighting the gleaming bank towers just north off tony Rothschild Boulevard, Krakowski remarked that some Israelis remain "cautious and afraid" of the area, but this was primarily due to ignorance. "There is an entrepreneurial spirit in this neighborhood and it's what Tel Aviv is known for. What we're trying to do is bring innovation to bear in order to solve local problems."
Inside, a staircase featuring curated, neon graffiti leads up to The Platform itself: a long, narrow, mostly open office plan, with greenery hanging from the ceilings above communal desks set up with computers and electrical outlets. A kitchenette and floor-to-ceiling world map give it the feel of a modern tech start-up, yet the view from the windows is one of shuttered garages and warehouses. Down the exterior hallway is an office for the local police foot patrol unit.
The idea for The Platform initially came from Bloomberg Philanthropies, which provided seed money for the project. It is run by Tel Aviv Global, a company managed by the Tel Aviv mayor's office with a goal of increasing the city's global brand via economic development, tourism, and strategic communications. As Eytan Schwartz, Tel Aviv Global's CEO, said via phone, "There are common urban challenges [to cities worldwide] and there are unique challenges to this neighborhood. We were looking to build a re-creatable model that translates to other cities…while also building a positive urban anchor [in Neve Shaanan]. There's value in that."
This practical value comes from three interrelated, but distinct, elements of The Platform: a tech accelerator-incubator for new start-ups that focus on solving social problems; an open co-working space for neighborhood residents (as well as outside innovators working on positively affecting the area); and a physical location for holding workshops and lectures on technology and business.
For the tech accelerator, The Platform partnered with the alumni association of Unit 8200, the elite signals intelligence and code decryption arm of the Israeli military, to launch the pilot program. Among the handful of proposals chosen for the initial round was "Backyard," an app meant to boost cooperation between neighbors both socially and economically. Topaz Eitan, one of the app's creators, said that the program at The Platform supported her not just with physical office space, but also mentorship and connections in the industry. She and her team conducted early trials in Neve Shaanan and other modest-income neighborhoods of south Tel Aviv.
Another incipient start-up based at The Platform is "6 Degrees," a prototype wristband sensor that, via Bluetooth, translates motion into mouse, touchpad, or keyboard strokes—beneficial for anyone with physical disabilities like Parkinson's Disease, paralysis, or amputations. Miri Berger, one of the co-founders, explained that her two partners in the venture (including her husband) were themselves injured Israeli military veterans. Through the municipality's help, their prototype was already being tested at a special needs school in north Tel Aviv.
Neither Eitan nor Berger are residents of the neighborhood. While her project is not specifically geared towards Neve Shaanan's immediate problems, Berger said that start-ups like hers draw value from being based in such a locale. "When you're exposed to the city you learn what the needs are, face-to-face, instead of guessing, like most start-ups."
The second facet of The Platform, the co-working space, is, however, geared primarily to locals. "It's been fairly successful, and residents do use it," says Judah Ari Gross, a journalist who, when not working from The Platform, can see it from his kitchen window. "And it also serves outside people working for Neve Shaanan who come to the neighborhood." Recently, operating hours were extended into the evening to allow access for nearby residents who work during the day.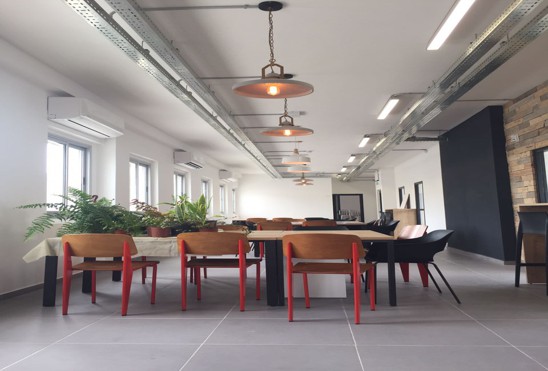 The third facet of The Platform's activities, lectures and workshops, are held at night and on Fridays (the first day of the Israeli weekend). These often run in partnership with "Teach-Tech," a local initiative started by two Israeli residents of south Tel Aviv. Topics have included introduction to entrepreneurship, basic computer and smartphone skills, Excel and Powerpoint. The courses are subsidized and open to all ages and residents, drawing local Israelis to The Platform but not, as of yet, many foreign migrants.
The Platform's administrators attribute the limited reach thus far to various factors. They say the language barrier is a significant hurdle, but there are also deeper societal challenges found in Neve Shaanan—namely the ongoing tensions between some of the Israeli locals and their African-origin counterparts. Sima Sedero-Peled, the manager of "Teach-Tech" and a south Tel Aviv resident, told me that there were differences even inside the Israeli community: between old and new residents, gentrifiers and traditionalists, Ashkenazi and Mizrachi Jews. "Some people were suspicious at first [about The Platform]. Was it just another attempt to gentrify?" Sedero-Peled recalled. "But slowly through building the infrastructure and courses you build trust. There's a delicate balance here, you need to be smart about it, but it's a way to give back to the neighborhood."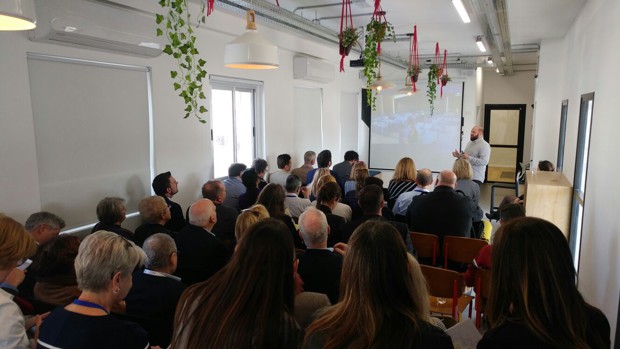 Krakowski stressed that The Platform welcomes all residents; there are in fact plans to try new programming to draw in more people from the African refugee and asylum seeker community. Many in this community, to be fair, are also likely just attempting to survive: finding shelter, finding work, and securing some kind of official status in the face of the Israeli government's intentions to deport them en masse. But community leaders think The Platform's efforts will be successful: "[The Platform] is new, and not a lot of people know about it," Taj Haroun, a refugee from Darfur and community activist, explained. "It's close and very useful—and there is a great need for it: mentoring and coaching, and language and computer classes. It's just a matter of time until more people come."
Ultimately, The Platform's goal is to start solving big as well as local urban problems through social-technological entrepreneurship. In the process, though, it also empowers locals by giving them the opportunity to develop the skills of modern industry in their immediate neighborhood. Local businesses, too, profit from the influx of new people coming to The Platform for an event or work. It was, according to Krakowski, a "positive anchor" in Neve Shaanan, "with people coming and going and more 'eyes on the street,'" she said, alluding to Jane Jacob's famous theory on urban public safety.
More than anything, The Platform seems to indicate a shift in both intent and mentality. "I wouldn't have gotten near this place beforehand," said Topaz Eitan, the app developer who lives in a leafy section of north Tel Aviv. "I'm now discovering new areas, cultures, and food. Geographically [Neve Shaanan] is really close. It just feels far."